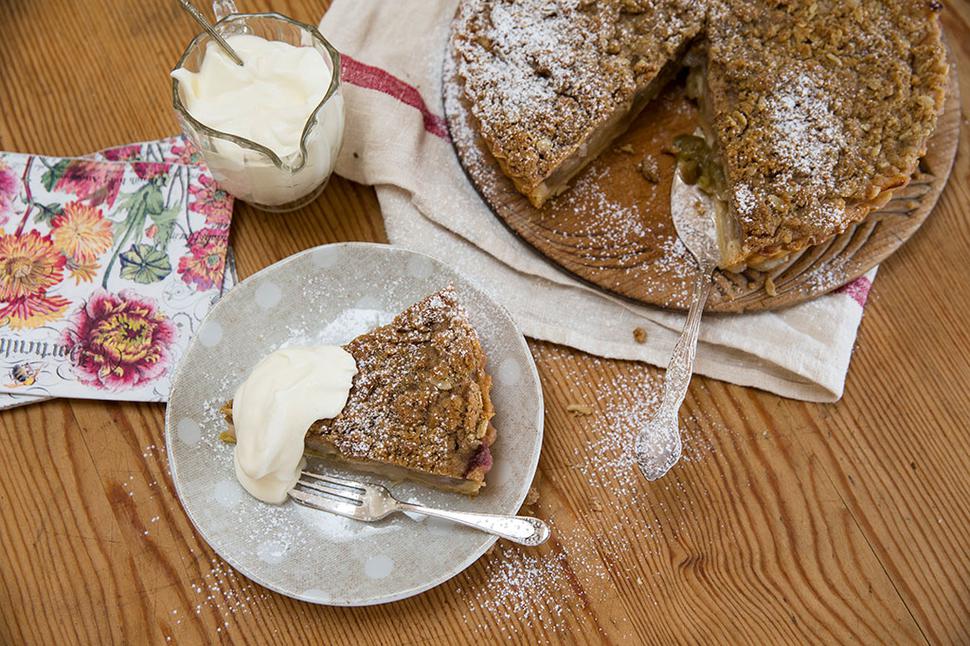 Apple and Rhubarb Crumble Tart Recipe
Angela Casley's decadent tart is good for any time of day
Wednesday July 1, 2015
APPLE AND RHUBARB CRUMBLE TART
Pastry
• 190g flour
• 2 Tbsp sugar
• 100g butter
• 1 egg
• 2 Tbsp cold water
Filling
• 1 Tbsp butter
• 2 Tbsp water
• 4 large granny smiths, peeled and chopped
• 6 stalks rhubarb
• 100g sugar
• ¼ tsp cinnamon
Topping
• 100g flour
• 100g butter
• 100g brown sugar
• ½ tsp cinnamon
• ¼ tsp ground cardamom
• Pinch ground cloves
1. Set oven to 180C. Grease a 23cm tart tin.
2. First, make the pastry. Place the flour, sugar and butter in a kitchen processor. Whizz until it resembles fine breadcrumbs. Add the egg and cold water to form the dough. Roll it on a lightly floured bench so it's big enough to fit your tin. Bake blind for 15 minutes.
3. To make the filling, put the butter, water, apples, rhubarb, sugar and cinnamon in a pot. Bring to a simmer and continue to cook on low for 8-10 minutes, until the rhubarb and apple are soft. Allow 15 minutes to cool.
4. To make the topping, place flour, butter, sugar, cinnamon, cardamom and cloves in a food processor. Blitz to coarse crumbs.
5. Pour the filling into the baked pastry case and sprinkle the topping over. Bake for 40 minutes, until cooked and golden.
Share this:
More Food & Drink / Desserts