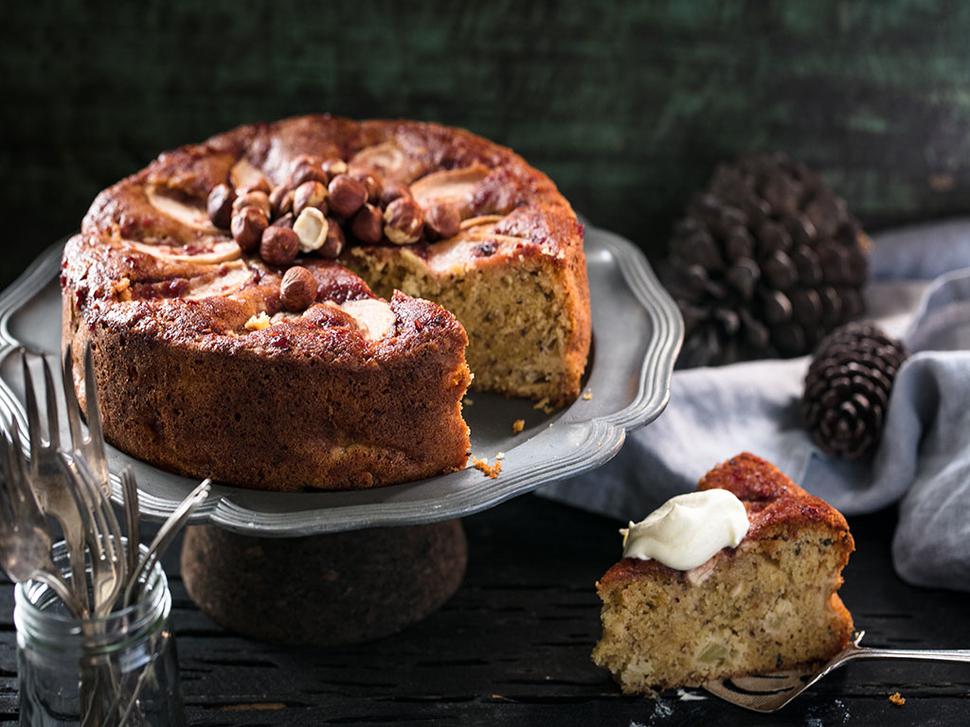 Apple & Hazelnut Cake
The flavours of apple and hazelnut combine beautifully in this classic cake recipe
Thursday April 26, 2018
This apple and hazelnut cake is another favourite. These two flavours are one of those perfect combinations — whether in a salad or baking — they taste beautiful together. A good wedge of this cake with a dollop of lightly whipped cream is heaven.
APPLE AND HAZELNUT CAKE
Serves 8
100g raw hazelnuts
140g self-raising flour
150g butter
120g brown sugar
2 eggs
3 apples, peeled and cored
Extra hazelnuts to decorate
Whipped cream to serve
1. Preheat an oven to 160C. Line a 20cm tin with baking paper.
2. Into the food processor place the hazelnuts and pulse until fine. Add the flour and butter and pulse until crumbly.

3. Add the sugar and eggs and mix to combine.

4. Chop two of the apples, stirring through the mixture. Pour the mixture into the cake tin. Slice the remaining apple and arrange on the top. Place into the oven and cook for 50 minutes.

5. Cool in the tin for 15 minutes before placing on to a cooling rack.

6. Serve with extra hazelnuts and a dollop of whipped cream.
Share this:
More Food & Drink / Recipes