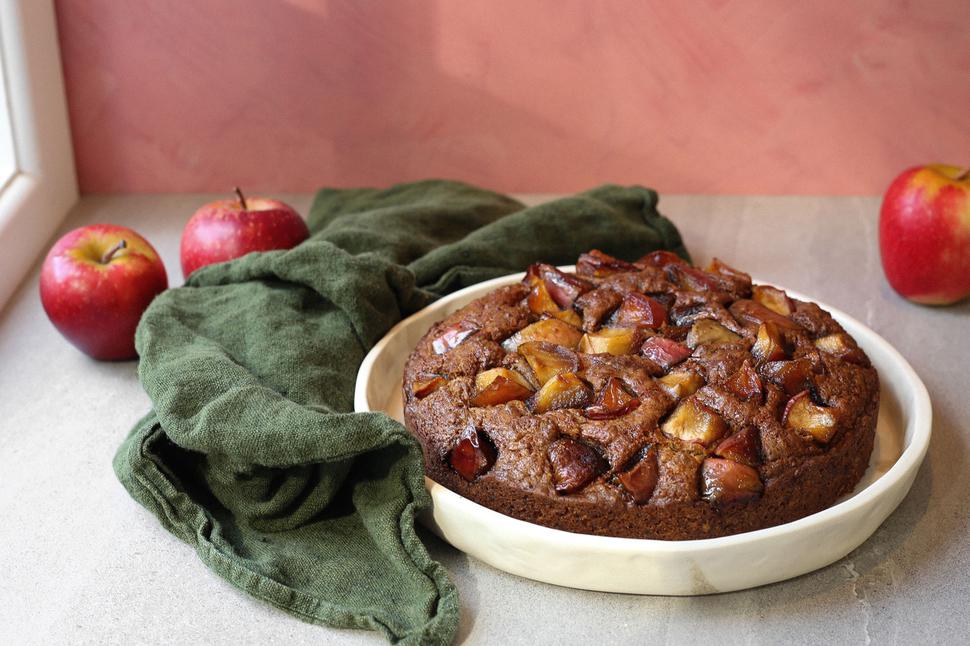 Sweet & Savoury Apple Recipes To Try
From classic pies and crumbles to crunchy salads and savoury dishes, these recipes prove there's plenty to love about apples
Monday March 11, 2019
Eleanor Ozich's Vegan Caramelised Apple Cake 
This recipe sees soft, caramelised chunks of apple folded into a gently spiced batter, then baked until golden. Serve this moreish vegan cake with a dollop of coconut yoghurt or perhaps a drizzle of thick coconut cream.
Little Bird's Raw Apple & Blueberry Cake
From Megan May's The Unbakery: Raw Organic Goodness cookbook, you'll find this raw cake recipe. Gluten, dairy and refined sugar-free, this vegan cake is a wholesome take on a classic comfort food favourite.
Apple Strudel
With golden raisins soaked in rum with a mix of pine nuts, lashings of apple and light strudel dough, this dish is pure indulgence. Serve warm with a liberal dusting of icing sugar and plenty of silky custard.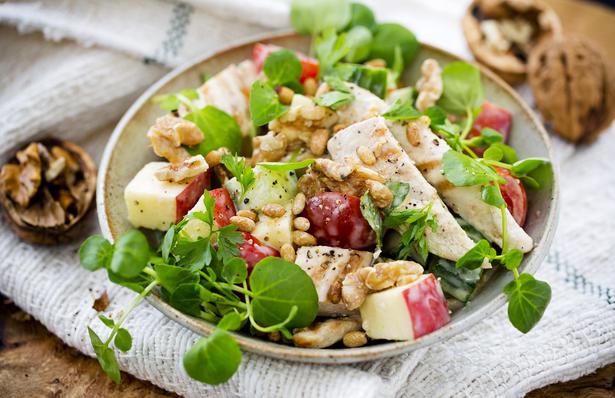 Walnut, Barbecue Chicken, Apple & Watercress Salad
This salad has it all going on — it's fresh, crunchy and totally moreish with creamy curry-spiked dressing. Enjoy on warmer nights for a refreshing dinner or for a delicious weekend lunch.
Crunchy Fennel, Apple & Noodle Slaw
This crunchy slaw is a fresh addition to any table. Vermecelli noodles add some substance, as does serving it topped with crumbed fried snapper if you desire.
Apple & Hazelnut Cake
This apple and hazelnut cake is a favourite. These two flavours are one of those perfect combinations — whether in a salad or baking — they taste beautiful together. A good wedge of this cake with a dollop of lightly whipped cream is heaven.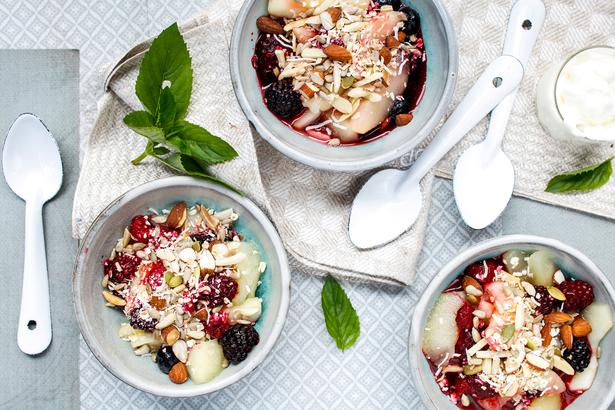 Easy Apple Crumble With Blackberries
This fresh recipe adds a light twist to this winter favourite, making it perfect for warmer days. Apples and berries are lightly simmered, then spooned into bowls and sprinkled with a lightly toasted crumble topping. Serve with a dollop of thick yoghurt.
Gluten-Free Apple, Parsnip & Cinnamon Cake
A recipe that is both indulgent and virtuous, this little parsnip, apple and lemon-scented cake is impossibly moist, and beautiful to eat. This fruity delight has a delicate warmth from the cinnamon, it's free of refined sugar, gluten and dairy (not that you'd know) and has no compromise on flavour.
Creamy Overnight Apple Bircher Muesli
You'll love this easy overnight bircher muesli recipe — simply place the ingredients in a jar the night before, and wake up to enjoy a deliciously creamy, nourishing breakfast.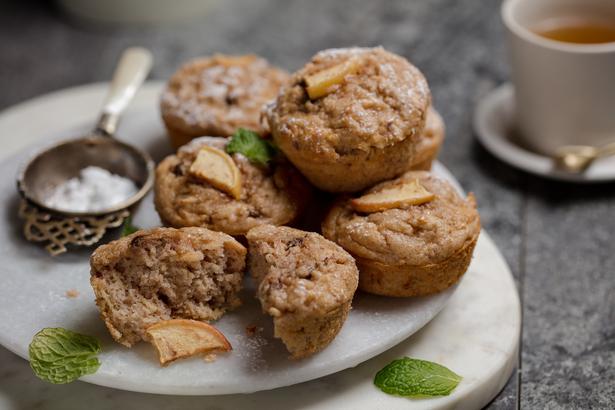 Gluten-Free Apple & Cinnamon Muffins 
Prepare for these muffins to be demolished pretty swiftly, either for a speedy breakfast or a moreish snack. They're best eaten warm, so enjoy fresh or give a quick zap in the microwave.
One-Pan Pork Fillet With Apple, Potato & Red Cabbage
Sweet and savoury combine wonderfully in this simple one-pan meal. It ticks all the boxes with your protein, vegetables and carbs covered off in one simple dish. It's just perfect for busy weeknights.
Apple & Rhubarb Crumble Tart
You'll taste the difference after taking your time to create this dessert from scratch. Homemade pastry, filling and topping comes together to create a sweet treat your nan would be proud of.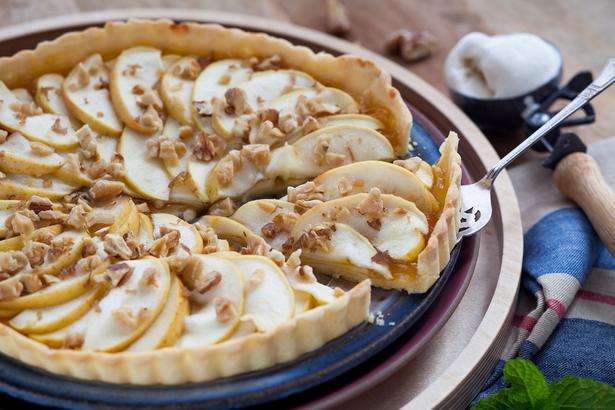 Simple Apple Tart
It doesn't get much simpler than this. A handful of ingredients combine to create this rustic apple tart. Top with toasted walnuts and serve warm with a big scoop of vanilla icecream.
Spiced Feijoa & Apple Brown Rice Bircher
Two autumn favourites pair up to create a surprisingly light, delicious breakfast. Prep the night before to enjoy a delicate yet delightful breakfast come morning. It's also easily adaptable to be both gluten and dairy-free.
Old-Fashioned Apple Pie
This simple dessert is inspired by the orchards of Hawke's Bay. Slicing apples thinly and placing in between pastry is a no-brainer. The tingle of lemon on the tongue contrasting with the natural sweetness of the apples is perfect.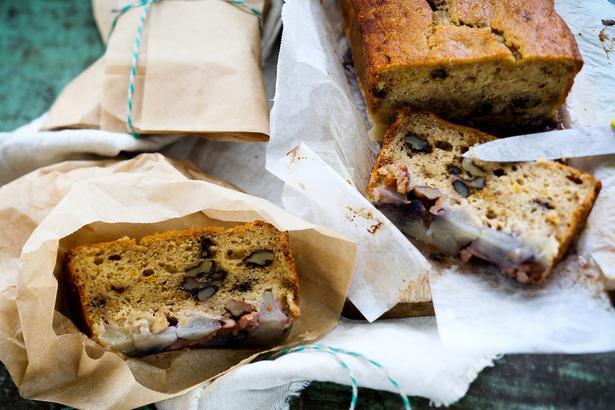 Fresh Ginger, Apple & Walnut Loaf 
This loaf is full of warming flavours, with both ground and fresh ginger delivering a spicy punch. Enjoy slices for a mid-morning snack, afternoon tea or a not-too-sweet dessert.
Apple & Buttermilk Fritters
These sweet little fritters make a wonderful dessert for sharing. Toss in cinnamon sugar and pair with mango compote for dipping.
Spelt Scones With Apple
If you're craving something warm and comforting, nothing beats a tray of softly textured scones with apple, sharp cheddar and nutty spelt flour. A little fresh thyme from the garden brings a soft earthiness, amidst the sweet fruit and delicate texture. Bring them to the table with creamy unsalted butter and a milky mug of tea.
Tapenade Stuffed Pork Fillet With Apple Sauce
This dinner sounds fancy, but really is quite fuss-free to put together. Homemade apple sauce kicks things up a notch, along with sweet slices of fried apple.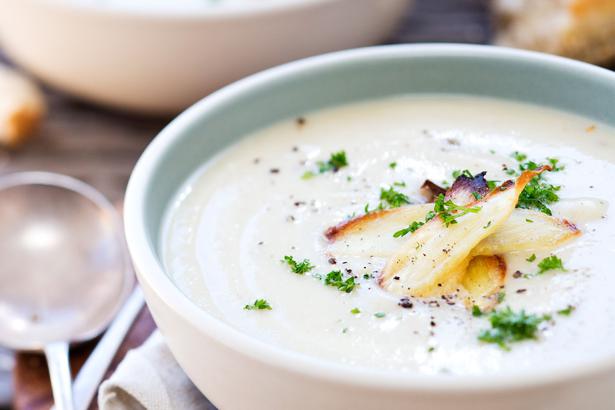 Parsnip & Apple Soup
This lightly spiced soup is creamy and oh so comforting. Serve with roasted parsnip chips for some crunch and warm crusty bread for dipping.
Strawberry & Apple Shortcake
Six ingredients is all you need to create this easy shortcake, which is just as divine eaten warm or cold the following day.
Sponge Pudding with Apple & Rhubarb
Three steps and you're on your way to digging into this divine dessert. Serving warm with a good dollop of custard is mandatory.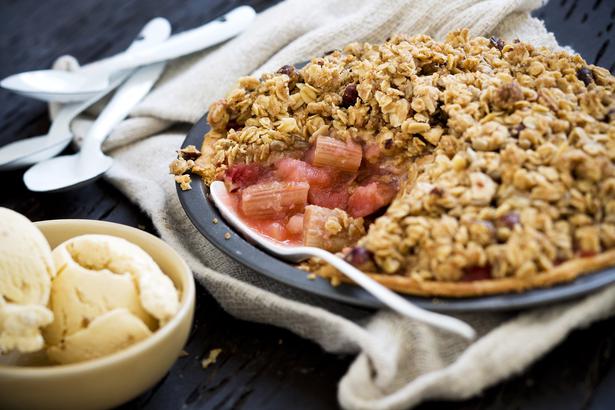 Rhubarb & Apple Pie With Crumble Topping
This pie is classic comfort food at its best. Rhubarb and apple are a match made in heaven, while the golden crumble topping will take you right back to your childhood.
Vegan Apple & Fig Cake With Caramel Drizzle 
This throw-together cake proves that vegan baking really can be so simple. This cake is so light and virtuous, it can even be enjoyed for breakfast served with tangy coconut yoghurt.
 Israeli Couscous Salad With Roast Chicken & Apple
This fresh, light chicken salad features crunchy apples, cucumber, couscous and a dill-spiked yoghurt dressing. It's the perfect way to make leftover chicken stretch to another meal.
Upside Down Apple, Thyme & Almond Cake
This upside-down apple cake is beautifully perfumed with a hint of vanilla and fresh thyme, and has a soft, moist crumb from the addition of ground almonds. This recipe lends itself towards any seasonal fruit that cooks up well, but apples are a favourite.
Share this: