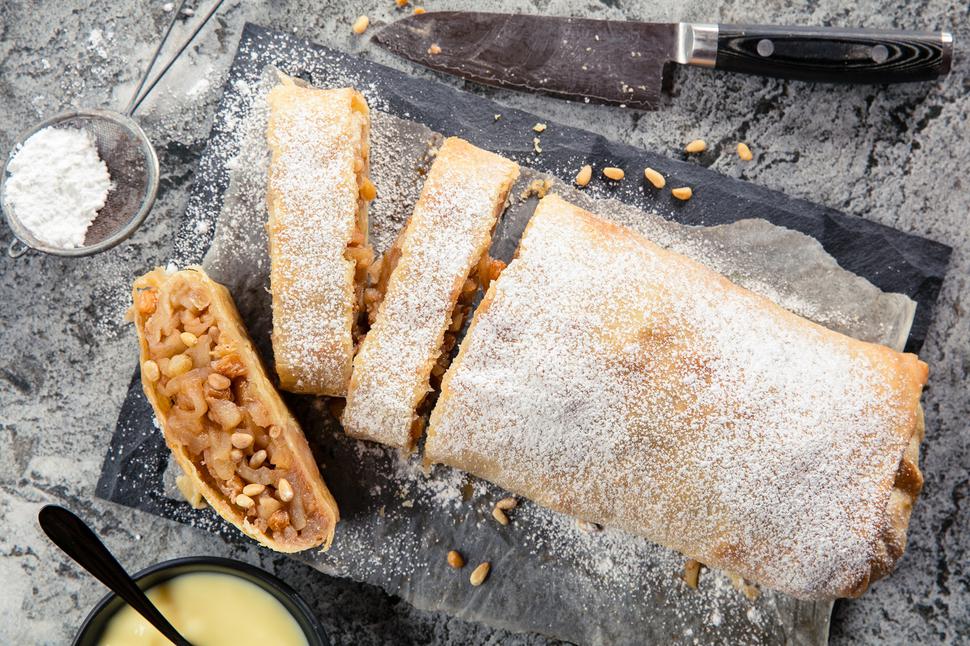 Apple Strudel With Rum Raisins & Pine Nuts
It doesn't get much better than fruity homemade strudel served with silky custard
Friday Oct. 19, 2018
This dish is pure indulgence. I have recreated one of the strudels we enjoyed on a scorching-hot summer's day close to the Austrian border in the Dolomites. It had golden raisins soaked in rum with a mix of pine nuts, lashings of apple and light strudel dough.
APPLE STRUDEL RECIPE 
Serves 6-8
Dough
50g melted butter
1/3 cup warm water
1 tsp lemon juice
1 ½ cups flour
Pinch salt
Filling
½ cup raisins (I used golden)
1/3 cup rum
5 medium apples, peeled, cored
½ cup sugar
2 Tbsp lemon juice
1 tsp cinnamon
½ cup toasted pine nuts
1/4 cup dried breadcrumbs
½ cup melted butter
Icing sugar to dust
1. Soak the raisins in the rum for 1 hour, then drain.
2. To make the dough, place the butter, water and lemon juice into a large bowl. Using a wooden spoon stir in half the flour and salt, add the remaining flour to form the dough. Place on to a lightly floured bench and knead for 5 minutes until smooth and elastic. Place into a lightly oiled bowl, cover and rest at room temperature for at least 1 hour or up to 4.
3. Preheat oven to 200C.
4. For the filling, cut the apples into small batons and place into a bowl. Add the raisins, sugar, lemon juice, cinnamon and pine nuts, stirring through.
5. Lie a clean towel on the bench, topped with baking paper and lightly dusted with flour. Roll the dough as thin as possible to a 30 x 40cm rectangle. Brush with butter and sprinkle over the breadcrumbs.
6. Strain any juice from the apples or the strudel will become soggy. Place them along the long side of the dough leaving a 3cm border. Fold in the sides, brush with butter, then use the tea towel and the paper to help roll the strudel. Transfer on to a baking tray.
7. Brush with more butter before placing into the oven for 45 minutes until golden. Brush every 15 minutes while cooking.
8. Remove and cool slightly before serving. Dust liberally with icing sugar and serve warm with custard. This will reheat beautifully.
Share this: