Sticky Apricot and Almond Butter Puddings Recipe
Eleanor Ozich of Petite Kitchen shares her tasty pudding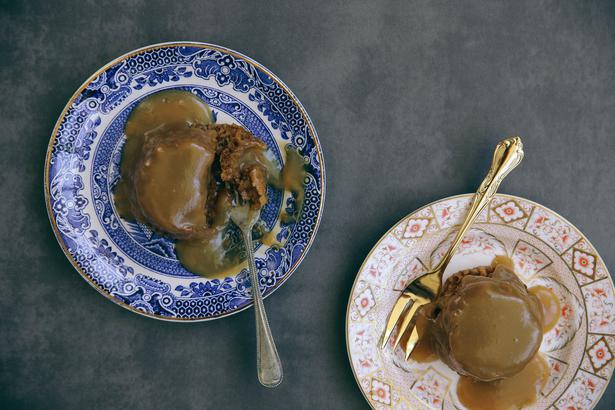 Thursday Jan. 30, 2014
These sticky and moist little apricot puddings are made with almond butter making them naturally free of gluten, and full of nourishment.
They are topped with a fantastic caramel sauce made with coconut cream and honey.
Perfectly sweet and decadent - fabulous for impressing dinner guests.

STICKY APRICOT AND ALMOND BUTTER PUDDINGS WITH COCONUT CARAMEL SAUCE
3 free-range eggs
1 cup dried apricots, soaked in water overnight
¼ cup extra virgin coconut oil, or butter
1 cup almond butter, or nut butter of your choice
2 tbsp honey, maple or brown rice syrup
1 tsp baking soda
1 tsp apple cider vinegar
For the coconut caramel sauce:
400ml can of full fat coconut cream
½ cup honey

1. Preheat the oven to 160C and grease a six-hole muffin tin.
2. Blend eggs, drained apricots, honey or syrup, coconut oil or butter, almond butter, baking soda and vinegar in a food processor. Process for a minute or so, until the batter is smooth and creamy.
3. Spoon into the prepared muffin tins.
4. Bake for 25-30 minutes, until a skewer comes out clean when inserted.
5. While the puddings are baking, prepare the coconut caramel sauce. In a saucepan over medium heat, combine the coconut cream and honey, and bring to a soft boil.
6. Turn the heat down to low, and simmer for 20-25 minutes, or until the caramel becomes a lovely golden colour. Stir often towards the end as it can burn easily.
7. Serve the puddings warm, with a drizzle of coconut caramel sauce, and a dollop of whipped cream if you are that way inclined.
*gluten free
*dairy free (if using coconut oil)
*refined sugar free
Share this:
More Food & Drink / Recipes