Apricot and Chocolate Bumper Bars Recipe
Eleanor Ozich transports us back to our childhood with this wholesome and vegan version of a kiwi favourite, chocolate bumper bars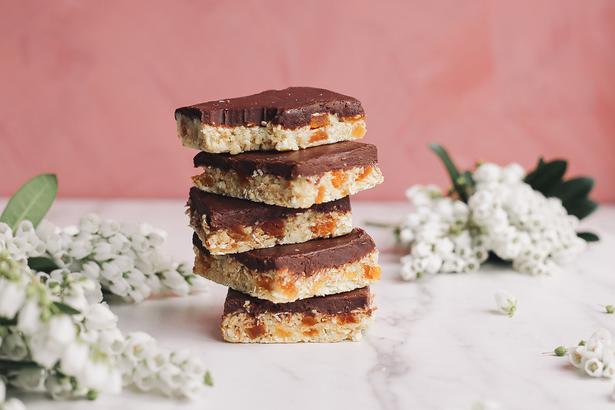 Thursday Oct. 19, 2017
 Gloriously fudgy bumper bars, largely consist of dark chocolate and chunks of chopped apricot. If you're a Kiwi kid, you'll probably know what I'm talking about.They're those addictively soft and moreish little snack bars sitting by the counter at your local dairy or gas station, pretending to be 'healthy' but really, we all know they're not. These are my wholesome version, which coincidently, are vegan too. And while 'wholesome' and 'vegan' might not sound very exciting, trust me, this recipe will not disappoint.
APRICOT AND CHOCOLATE BUMPER BARS
Makes about 12 bars
Ingredients
1 cup dried apricots, diced
2 cups rolled oats
1 cup shredded coconut
¾ cup coconut cream
½ cup melted coconut oil
1/3 cup rapadura, coconut or light muscovado sugar
1 tsp pure vanilla bean paste
Topping
150g good quality chocolate, roughly chopped
¼ cup coconut cream
1. Combine all ingredients in a large mixing bowl, and stir using a wooden spoon until the mixture is sticky and well mixed.
2. At this point, you can either add in the roughly chopped chocolate to the mixture, or reserve for topping instead.
3. Press the mixture evenly in to a slice tin lined with baking paper.
4. Melt the chocolate over a double boiler, and stir in the coconut cream until smooth.
5. Pour on top of the bar mixture, and smooth out evenly.
6. Place in the fridge to set for about 2 hours or so, before slicing in to bars. The bars will keep in an airtight container for 6-7 days, and are best stored in the fridge.
Share this: