Don't Miss: Ardbeg Night at House of Whiskey
Be among the first in the world to sample Ardberg's darkest whiskey yet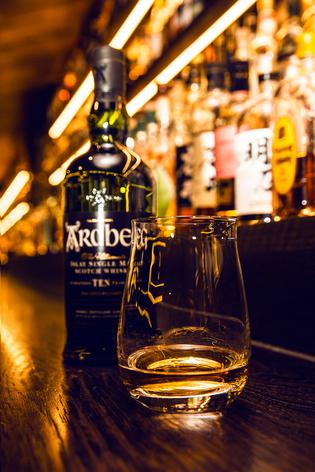 Whisky may once have been synonymous with gentlemen's clubs, but women are increasingly drinking the good stuff, too. Since the 90s, when women accounted for a meagre 15 per cent of the whisky drinking population in the US, the number has soared to 37 per cent, a reflection of changing attitudes, power shifts, and the boom of cocktail culture.
A year ago, Ofir Yudilevich started The Jefferson, an underground whisky bar in Auckland's Imperial Lane, with a glamorous blue and gold interior, and no leather couches in sight. "The boys' club is always going to have their scotches," he says, "but women are going head to head with the guys. It's a slow drink, it's about quality, not quantity."
Global supply is struggling to keep up with demand, so it's little wonder anticipation is high for Ardbeg's new limited edition release, Dark Cove.
New Zealand's Ardbeg "embassies" will be among the first in the world to offer the Scottish distillery's darkest whisky yet at the brand's annual Ardbeg Night on May 28, a global event that coincides with Scotland's Islay Whisky Festival, Feis Ile.
Not a whisky fan? Yudilevich says it's not unusual to become converted once you've scratched the surface of connoisseurship the spirit provides, or been match-made with one of the bar's 600 varieties. It's not just about scotch, either. Post-tasting, you might be tempted to try an award-winning Kavalan from Taiwan, or anything from the Land of the Rising Sun. Says Yudilevich, "Japanese whisky is [colloquially] going off. You just can't buy it."

• Ardbeg Night, May 28, House of Whiskey, 38 Courthouse Lane, where Dark Cove bottles will be available to buy for $179, and The Jefferson, Fort Lane (tastings only), plus Regional Wines, Beers & Spirits in Wellington and Whisky Galore in Christchurch.
Share this:
More Food & Drink / Wine & Drink