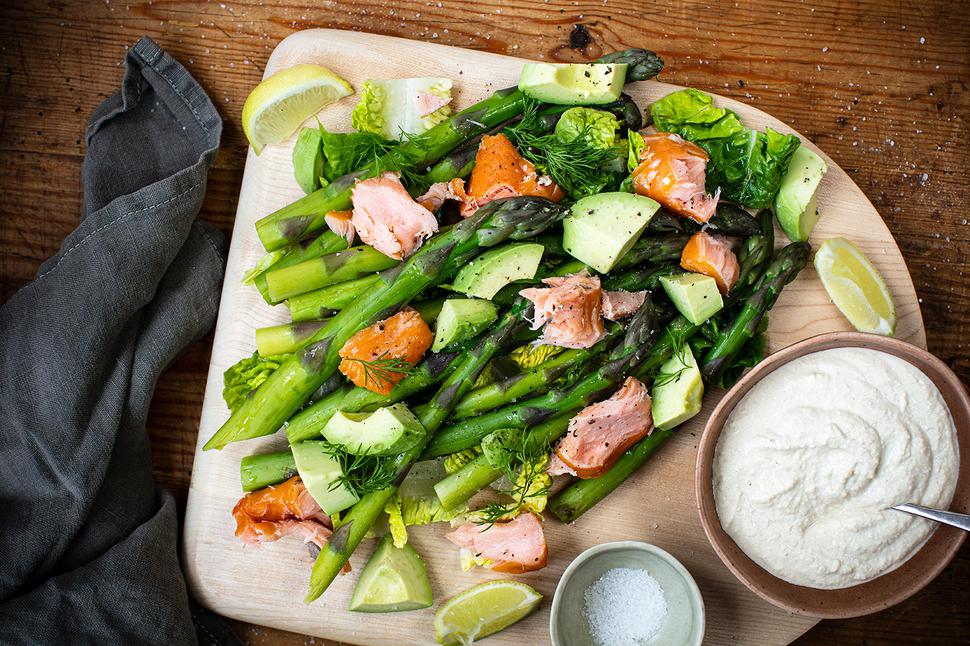 Smoked Salmon Salad With Asparagus & Cashew Cream Recipe
This fresh combination is perfect for the season
Friday Oct. 9, 2020
This versatile cashew cream is great for dipping fresh vegetables and dolloping on salads. The longer you soak the cashews, the creamier the dressing.
ASPARAGUS AND CASHEW CREAM
Serves 4
1 cup raw cashew nuts
¼ cup water, plus extra for soaking
Pinch salt
2 tsp yeast flakes (optional)

SALAD
1 cos lettuce, shredded
2 bunches asparagus, cooked
1 avocado, diced
200g smoked salmon, in chunks
1 tsp lemon zest
¼ cup dill sprigs
Salt and freshly ground pepper to taste
1. Place the cashew nuts in a bowl and soak overnight, or for at least 6 hours. Drain, discarding the water.
2. Place the cashews, ¼ cup water, salt, yeast flakes and lemon juice in a blender and whizz until smooth.
3. To assemble the salad, place the lettuce, asparagus, avocado, salmon, zest and dill on a platter. Season well.
4. Serve the cashew cream separately or dollop on the top.
Share this:
More Food & Drink / Recipes