Asparagus and Salmon Bake Recipe
The saltiness of smoked salmon and sweetness of asparagus makes this bake a match made in heaven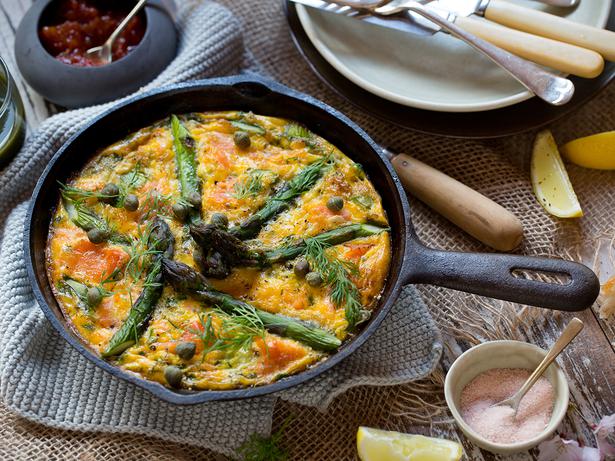 Friday Oct. 6, 2017
A match made in heaven is asparagus and salmon with a hint of dill. Serve this bake for brunch or lunch with your favourite chutney and a side salad. It is just as good hot or cold.
You can always mix this recipe up a bit, adding feta or other cheese, olives or any number of flavours, but I like the simplicity of a few ingredients.
ASPARAGUS AND SALMON BAKE
Serves 4
6 asparagus spears, blanched
2 Tbsp chopped dill and extra for decorating
¼ tsp salt and pepper
6 eggs, lightly whisked
1 Tbsp olive oil
Knob of butter
2 spring onions, sliced thinly
200g hot-smoked salmon, flaked
1 Tbsp capers
1. Preheat and oven to 180C.
2. Cut asparagus in half, retaining the spear ends for the top. Slice the remaining halves into 1cm pieces. Add dill, salt and pepper to the eggs.
3. In an ovenproof frying pan, heat the oil and butter. Add the spring onions and cook for 2 minutes until softened. Add the sliced asparagus and cook for 1 minute. Remove from the heat.
4. Pour the seasoned eggs into the pan. Poke the flaked salmon evenly through the eggs. Decorate the top with the spears. Place into the oven for 25 minutes until puffed and just set.
5. Remove from the oven, sprinkle with the dill and capers.
6. Serve warm with your favourite chutney.
Share this: