Asparagus and Salmon Carpaccio Recipe
Try this salad for a tasty lunch option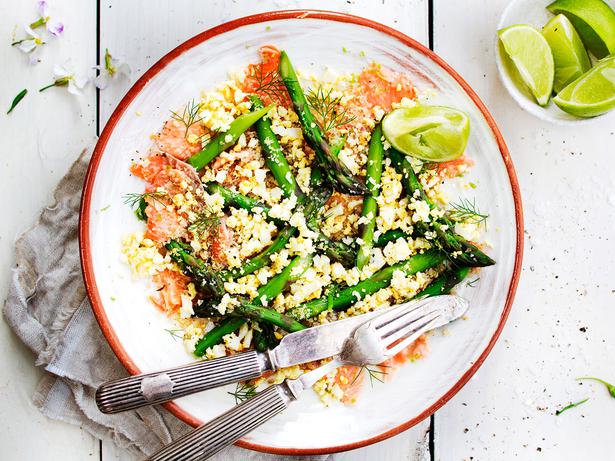 Thursday Sept. 13, 2012
ASPARAGUS AND SALMON CARPACCIO RECIPE
Serves 4
1 x 300g salmon fillet
Juice and zest of two limes, plus 2 extra to serve
Extra virgin olive oil
4 eggs
16 asparagus
2 slices white toast bread
2 anchovies
Flaky salt
1. Remove bones from the salmon if necessary. Using a very sharp knife, slice the salmon from the skin thinly on an angle.
2. Lie the salmon slices on a plate and add the zest and lime juice. Drizzle with 2 tablespoons of olive oil. Turn gently then refrigerate.
3. Boil the eggs for 6 minutes then run under cold water until cold. Peel and chop finely.
4. Trim the asparagus then boil in salted water for approximately 4 minutes, or until just tender. Drain and cool under cold running water. Slice in half.
5. Tear up the bread and put into a food processor, then process with the anchovies. Heat a frying pan and add 1 tablespoon of olive oil and the breadcrumbs. Toast until golden; let cool.
6. Assemble the salad by arranging slices of salmon with the asparagus, crumble over the egg and breadcrumbs. Season with flaky salt and serve with wedges of lime.
Share this:
More Food & Drink / Recipes