Asparagus and Scallop Linguine Recipe
Try this warm and comforting linguine recipe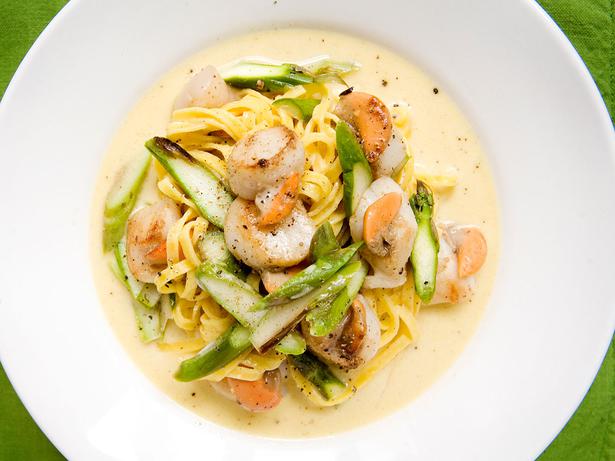 Thursday Oct. 20, 2011
ASPARAGUS AND SCALLOP LINGUINE
Serves 4
Salt
400g linguine - lemon - if available
3 Tbsp olive oil
16 scallops
1 small onion, finely diced
2 tsp lemon zest, finely chopped
2 cloves garlic, finely chopped
12 asparagus, trimmed and sliced
½ cup white wine
½ cup cream
½ cup vegetable stock
1 Tsp parsley, finely chopped
Freshly ground black pepper
1. Bring a large pot of salted water to a boil. Add the linguine and cook according to the packet instructions.
2. Drain thoroughly under cold running water then tip into a large bowl and gently stir through 1 Tbsp of olive oil.
3. Heat the remaining 2 Tbsp of olive oil and add the scallops. Cook over a high heat for 2 minutes on each side then let rest.
4. In the remaining oil, over a gentle heat fry the onion with the lemon zest, garlic and asparagus. When fragrant and soft add the wine, cream and stock to the pan.
5. Let simmer until the sauce begins to thicken then return the scallops to the sauce with the linguine and chopped parsley. Add freshly ground black pepper. And serve with crusty garlic bread.
Share this:
More Food & Drink / Recipes