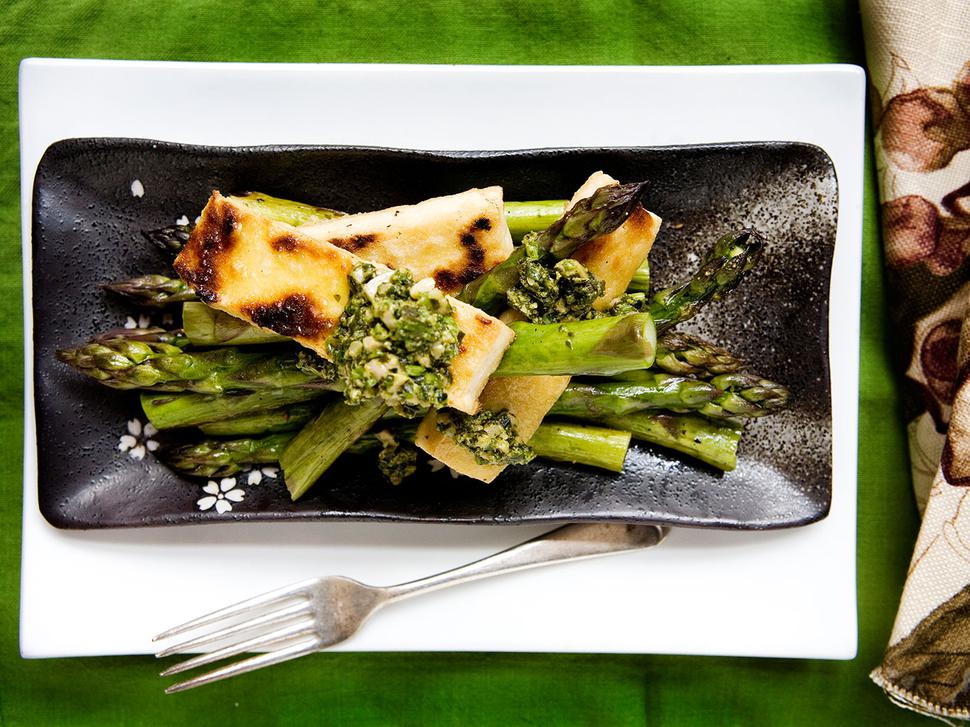 Asparagus, Rice Flour-Fried Tofu and Cashew Mint Sauce
Thursday Oct. 20, 2011
ASPARAGUS, RICE FLOUR-FRIEND TOFU AND CASHEW MINT SAUCE
Serves 4
• 16 asparagus spears
• 2 Tbsp peanut oil
• 2 Tbsp rice bran oil
• 1 clove garlic, crushed
• Salt
• ½ cup rice flour
• 200g tofu
Cashew mint sauce
• 1 cup toasted cashews
• 1 cup mint leaves
• 2 tsp palm sugar
• 3 tsp fish sauce
• 1 tsp chilli sauce
• ¼ cup fresh lime juice
• Lemon or lime wedges to serve
1. Trim the asparagus. Heat a grill or frypan and add the peanut and rice bran oil.
2. Add the garlic then the asparagus. Cook for 3 minutes, tossing occasionally, season with salt then set aside.
3. Pour the rice flour on a plate. Slice the tofu and dust with the flour on all sides. Return to the pan in batches and fry until golden.
4. To make the sauce; process all the ingredients in a mortar and pestle or use a food processor. Blend until combined but still retaining a rough texture.
5 Serve the asparagus with the tofu and spoon over the cashew mint sauce. Offer lime or lemon wedges when serving.
Share this: