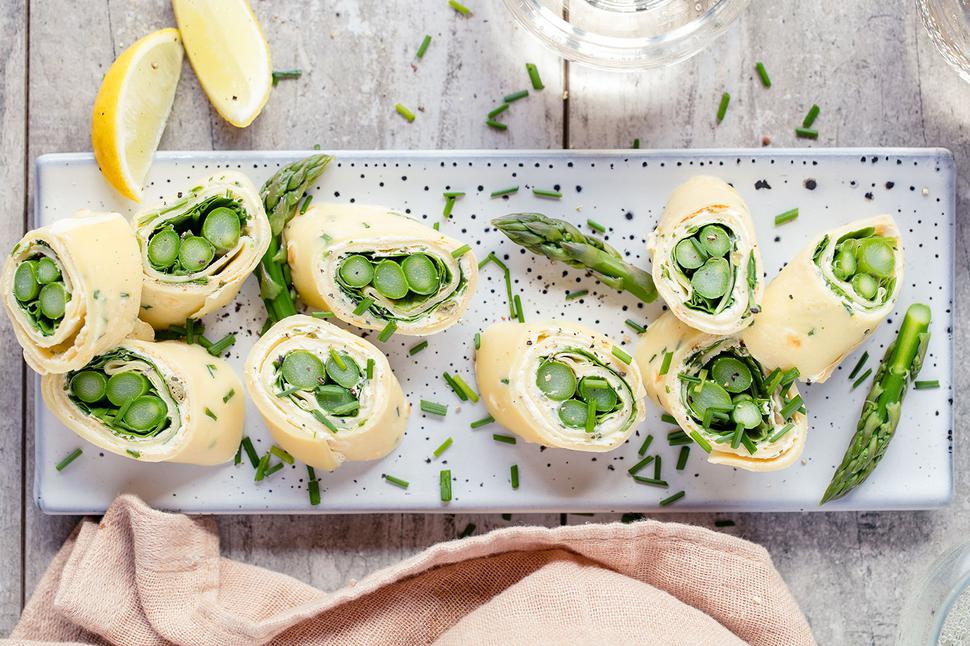 Asparagus & Rocket Crepes With Caper Cream Cheese
Searching for the perfect pre-made party nibble? These delicate crepes are our pick
Friday Nov. 16, 2018
When having drinks, it's always a good idea to have a couple of platters at the ready, so you can relax with your guests as they enjoy their first drink. These crepes are not only fresh and tasty but perfect for just that. A little peppery rocket adds a nice bite, along with creamy cheese and asparagus. You can't eat asparagus without a bit of lemon, so I've added some to the filling.
ASPARAGUS & ROCKET CREPES WITH CAPER CREAM CHEESE RECIPE
Makes 30 pieces
1 cup plain flour
1/4 tsp salt
1 egg
1 ½ cups milk
1 Tbsp chopped chives
Little butter for cooking

Filling
150g cream cheese
1 Tbsp capers
Zest and juice of 1 lemon
Salt and pepper to taste
2 cups rocket leaves
1 bunch asparagus blanched
1. Firstly make the crepes. Into a large bowl place the flour, egg, salt and milk. Whisk to a smooth batter. Stir through the chives.
2. Heat a little butter in a frying pan. Pour in a quarter of a cup of mixture, swirl around the pan to create a thin crepe. Cook until the side just lifts away, flip and cook for another 2 minutes. Continue with the remainder of the mixture.
3. For the filling, into a kitchen processor place the cream cheese, capers, lemon zest and juice, whizzing until smooth. Season with salt and pepper.
4. To put together, lie the crepe on a clean bench. Spread with the cream cheese mixture, sprinkle over some leaves and lay two or three pieces of asparagus down. Roll tightly. Cover and refrigerate.
5. When ready to serve, slice and place on a platter.
Share this: