Aubergine and Yoghurt Dip Recipe
This delicious dip recipe goes a long way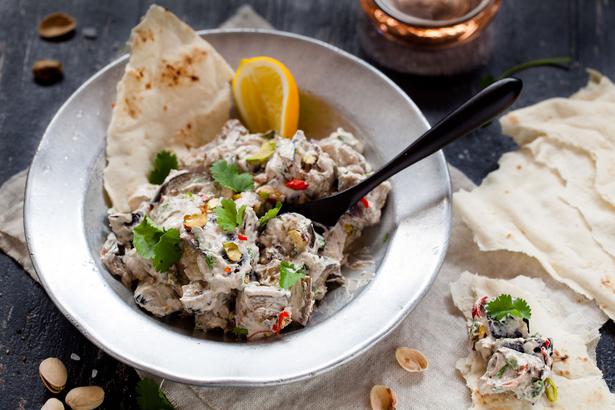 Thursday Sept. 1, 2016
Making this aubergine and yoghurt dip recipe a day or two ahead adds to the flavour. It goes a long way, and becomes quite substantial when served with warm Lebanese or pita bread. If any is left over, I make a wrap the following day with some chicken and mixed greens.
AUBERGINE AND YOGHURT DIP
Serves 4-6
1 aubergine, cut into cubes
½ tsp cumin
¼ tsp smoked paprika
¼ cup oil
2 cloves garlic
½ red chilli, chopped finely
Zest and juice of 1 lemon
1 ½ cups Greek yoghurt
½ cup chopped coriander
Salt and pepper to season
Extra lemon and coriander to garnish
¼ cup chopped pistachios to garnish
Lebanese bread to serve
1. Place aubergine, cumin, paprika and oil into a bowl and combine well. Heat a frying pan to a medium heat. Pour in aubergine and cook for a few minutes, tossing once or twice until soft and squidgy. Remove and cool.
2. Into a bowl place garlic, chilli, zest, juice, yoghurt and coriander. Season with salt and freshly ground pepper. Place into a bowl and garnish with lemon, coriander and nuts.
3. Serve with warm Lebanese bread.
Share this:
More Food & Drink / Recipes