Aubergine and Chickpea Curry Recipe
Try Angela Casley's simple and light summer curry in one pot and full of flavour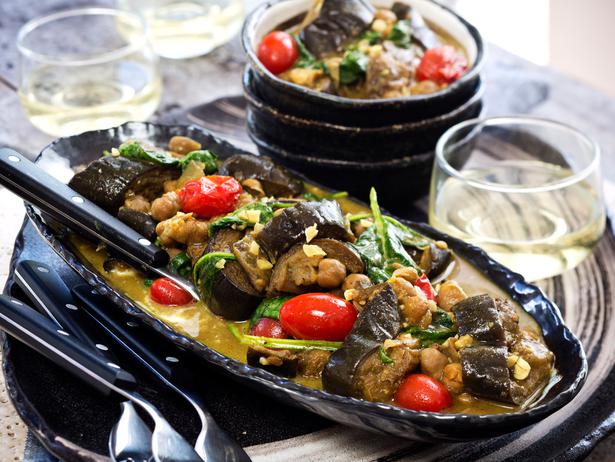 Friday Jan. 24, 2014
AUBERGINE AND CHICKPEA CURRY 
Serves 4
2 aubergines, cut in 3cm cubes
100ml olive oil
1 onion, finely chopped
4 cloves garlic, chopped
2 tsp curry powder
1 green chilli, seeds removed and chopped
3 tsp garam masala
2 tsp coriander
1 tsp turmeric
2 tsp brown sugar
400ml coconut milk
100g cherry tomatoes
200g chickpeas 2 handfuls of spinach
Salt and freshly ground pepper, to taste
2 handfuls of spinach
½ cup chopped coriander
1. Put aubergine in a colander and sprinkle with salt. After 20 minutes rinse and pat dry.
2. Heat the oil in a large pot to a medium heat. Add the onion and garlic. Cook for 2 or 3 minutes until starting to soften. Add the curry, chilli, garam masala, coriander and turmeric. Stir for 1 minute until fragrant.
3. Add the aubergine and stir until well coated in spice and continue to cook until starting to soften. Add the coconut milk. Cover and cook on a low heat for 20 minutes. Add the tomatoes and chickpeas. Cook for a further 10 to 15 minutes until all soft and delicious.
4. Before serving season with salt and pepper and fold through the spinach and coriander.
Share this:
More Food & Drink / Recipes