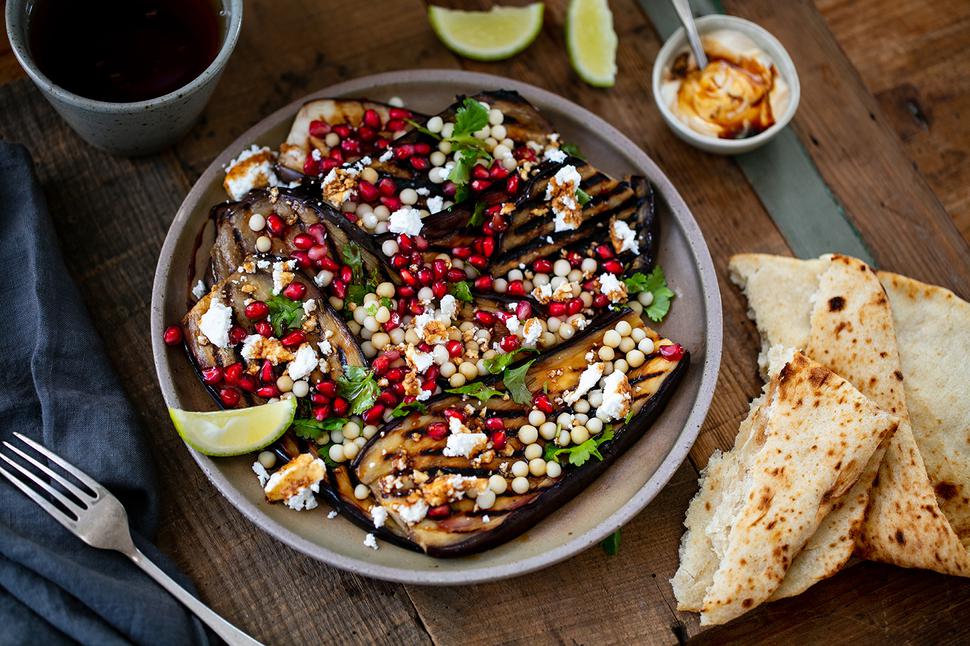 Aubergine, Couscous & Pomegranate Salad
Just-golden aubergine meets sweet pomegranate molasses in this easy salad
Sunday Aug. 22, 2021
Aubergines are best cooked with a generous dash of oil. Once fried, cover tightly with a piece of paper or towel. They will become soft and squishy, which works to make the flavour even better. If you are transporting this salad, you may like to cut the aubergine into bite-size strips.
AUBERGINE, COUSCOUS AND POMEGRANATE SALAD RECIPE
Serves 4
1 aubergine, sliced into ½ cm slices lengthways
Oil for cooking
1 cup cooked Israeli couscous
150g goat's feta, crumbled
½ cup chopped fresh mint
½ cup pomegranate seeds
Lime wedges, to serve
Dressing
½ cup unsweetened yoghurt
1 tsp lime zest
2 Tbsp pomegranate molasses
1. Firstly, rub the aubergine slices with a good quality oil. Either fry in a pan or on a barbecue until cooked and golden. Remove and cover while they cool.
2. Combine the yoghurt, zest and molasses in a small bowl. On a platter or in a bowl place the aubergine, couscous, feta, mint and seeds and combine well. Serve on a platter with lime wedges on the side to squeeze.
Share this: