Why Aubergine is so Hot with the Hipsters
Move over, avocado — the hipsters' favourite food is now aubergine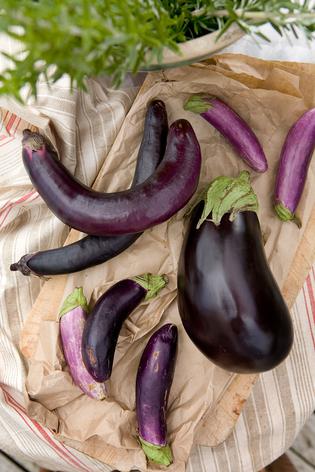 Kale has wilted. The avo is over-cado. Cauliflower has become uncool-iflower. Yes, adjust your salads and alert your #eatclean hashtags. They have all been replaced as the hottest ingredient in the kitchen by an unlikely, hitherto unsung hero: the humble aubergine or eggplant, as our American cousins insist on calling it.
Just last week, Aubergine took the New York theatre scene by storm. We don't mean a giant one rolled down Broadway, bringing traffic to a standstill — although that would have been quite an event, too — but that Julia Cho's new play Aubergine opened to rave reviews. A homage to family gatherings and the power of food, it's already being tipped for awards and a film adaptation.
So what of the glossy purple veg from which Cho's play takes its name? Well, that's having a purple patch.
Aubergine's resurgence is mainly thanks to the Middle Eastern food trend, spearheaded by Yotam Ottolenghi. The influential Israeli-born chef is a passionate aubergine devotee — he calls it "the mighty aubergine" — arguing that they might be known as "poor man's meat" but are actually a "vegetarian's rich treat".
Ottolenghi points to dishes like classic Turkish stew imam bayildi (which translates as "the imam fainted", after the legend that an imam passed out with pleasure upon tasting it) and hunkar begendi ("sultan's delight"), a smoked aubergine puree topped with lamb. In all five of his permanently packed London restaurants, aubergines are roasted, miso-glazed, stuffed with cheese or rolled into croquettes. And as seasoned gastro-watchers know, what occurs in Ottolenghi's kitchens soon happens everywhere else. And if you haven't smeared chermoula paste all over one recently, what are you thinking?
TRY: Aubergine and Chickpea Curry Recipe
British-Iranian chef Sabrina Ghayour, author of Persiana and Sirocco — among the best-selling cookbooks of the past two years — is forever chargrilling aubergines to sprinkle with cumin, drizzle with saffron yogurt or encrust with fried semolina. Eggplant chips (dipped in fennel yogurt for bonus chic points) are perennially popular at Soho's Spuntino, part of the on-point Polpo chain, and are deliciously fried with dates and feta at Moro's little sister, Morito.
Indeed, aubergines are so in vogue right now, vegans are using them to make (pardon the ghastly portmanteau) "fakon", or fake bacon.
But how healthy are they? Purple fruit and veg in general are beneficial — think beetroot, blueberries, plums, red cabbage — because the anthocyanin that provides their colour is a powerful antioxidant. Aubergine skin is also high in phytonutrients and chlorogenic acid. As neuroscientist Dr James Joseph said: "If I could eat only one colour per day, it would be purple."
Aubergines also form part of a Mediterranean diet, which recent research suggests could be better for the heart than taking statins. Redolent of sultry summer holidays, they can be stirred in ratatouille, mashed in baba ghanoush, layered in moussaka or baked in Tony Soprano's favourite: parmigiana di melanzane, aka "parmi".
To the emoji generation, the aubergine has a sexual significance. In texts and social media messages, millennials use the eggplant emoji to denote a penis. To suggest sex in shorthand, males type an aubergine, females a peach.
An enterprising British online start-up, EggplantMail, even allows customers to send someone an anonymous aubergine in the post, with a message of up to 16 words etched into its skin. The blurb says "100 per cent phallic, 100 per cent disturbing". It's essentially a retro "snailmail" version of a saucy text and proved so popular it had to temporarily shut down because demand was outstripping supply.
As a clothing colour, it's also bang on-trend, appearing at D&G, Lanvin, YSL and Burberry Prorsum on velvet, leather and sensuous frocks. Britain's fashion-forward Prime Minister Theresa May's partial to aubergine, too — more flattering on camera than black, apparently.
It even has its own Farrow & Ball paint colour called Brinjal (Hindi for aubergine) — gorgeous for gloss paintwork or dining rooms — and is even creeping into makeup bags via seductively noir-esque lipstick shades and nail polishes.
From food to cyber-flirting, beauty to Broadway, wardrobes to walls, the veg du jour's purple reign looks set to continue. Just call it the uber-gine.
— The Daily Telegraph
Share this: