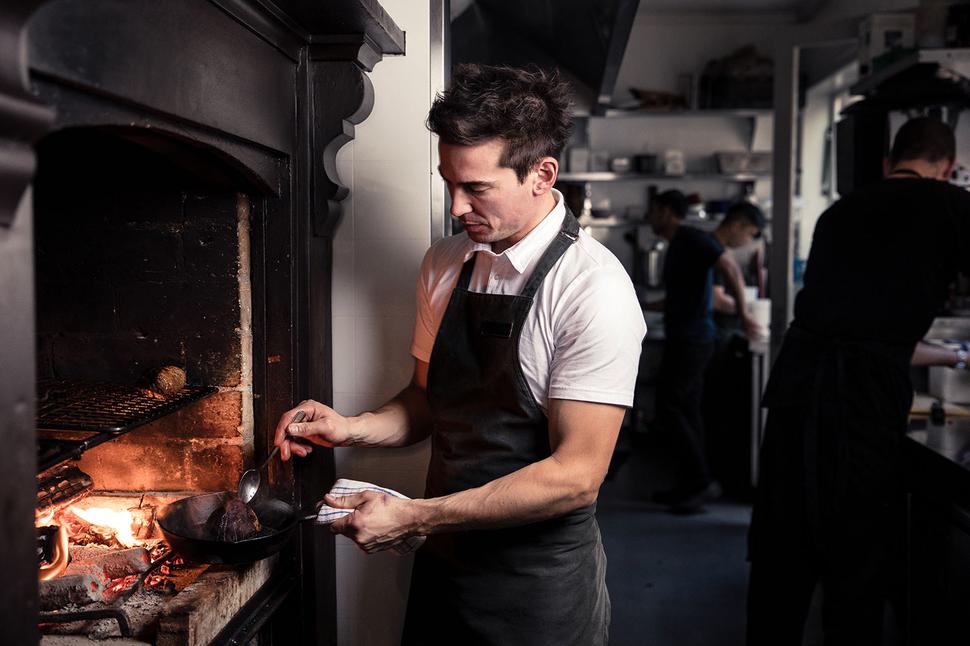 Discover The Auckland Restaurants Who Are Redefining Luxury As Locally Grown
Forget Alaskan king crab and foie gras, these restaurants are using locally sourced ingredients produced in our own corner of the world
Wednesday July 4, 2018
When asked where he sources the ingredients on the Orphans Kitchen menu, co-owner and chef Tom Hishon rattles off his suppliers like a long list of friends — limes from Rex, avocados from Calvin, lamb from Sue and Bill. From the length and breadth of the country, he knows where most of it comes from, and it gives his dishes an undeniably local flavour.
He serves mushrooms and bull kelp on kumara sourdough; bombe Alaska with avocado icecream (pictured below), passion fruit and kahikatea spiced meringue; and horopito-rubbed lamb rump, cooked over a pohutukawa-wood fire, served with a relish of feijoa and apples, grown just down the road at Kelmarna Gardens.
Passionate about supporting small organic growers and farmers, Hishon is inspired by the ocean and trawls the west coast on days off for nutrient-dense seaweeds and succulents.
READ: Meet The Passionate Personalities Behind Auckland's Best Artisanal Offerings
He says focusing on local ingredients gives the food a sense of place, and while there will always be a few imported items on his menu — such as spices and coconut that can't be grown here — it's about striking the right balance. "If we all focus on sourcing our fresh produce, fish, meat, grains and nuts locally then we are on the right track."
Choosing local isn't restricted by the type of cuisine a restaurant cooks or the formality of its dining — Auckland's casual Italian eateries like Amano are milling their own flour for pasta and curing their own meats to pair with locally made buffalo mozzarella, stracciatella and burrata.
Sourcing close to home is becoming more achievable for everybody. As the scope of what's available becomes more plentiful — truffles unearthed in the Waipara Valley, white asparagus harvested in Hamilton, yuzu plucked from an orchard in Horowhenua, and sake brewed in Queenstown — there's not much chefs can't get their hands on.
READ: New Zealand Skincare Brands For Those Who Like To Shop Local
And, as restaurants seek to make stronger connections between producers of food and the people who are eating it, there is a growing inquisitiveness in diners who are eager to know how, where, and who made their dinner.
Earlier this year, Sidart committed to sourcing 100 per cent of its ingredients locally, an ethos that owner Sid Sahrawat will take with him when he takes over The French Cafe later in the year. "It's more challenging as a chef to create with only what's around you," he says. "You don't always have to have luxurious ingredients, always flocking to truffles and caviar, it's nice to use the underrated species of fish and meat and fresh produce."
So, you'll no longer find pineapples and mangos on the dessert menu at Sidart; but who needs them when you've got native berries foraged in Canterbury and stone fruits ripened by the Otago sun?
Having these limitations makes for a more critical approach that Sahrawat believes results in better food. "Instead of putting 10 ingredients on the plate we now use four or five. We build on those ingredients instead of too many different things competing with each other on the palate."
Clooney's new menu — created by head chef Nobu Lee — recently followed suit, using only local ingredients. It begins with a playful selection of canapes that celebrate nostalgic kiwi cliches, such as fish and chips and meat and three vege, and goes on to showcase the abundance of what's available with tamarillos and lady finger bananas grown in the North's micro-climate, to rare breeds of duck, Mercer aged goat gouda, and salted green blueberries instead of capers.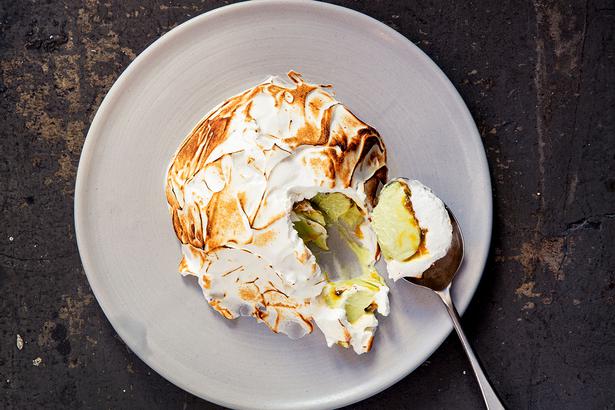 Owner Tony Stewart says it has made them think smarter, work more closely with the seasons, and question where everything comes from, "It's our responsibility to ask questions about who supplies our produce and understand their farming practices. We haven't eliminated the big distributors by any means, but we are taking more responsibility in finding out who those farmers are and what their practices are."
Laura Verner, who, with her husband, Ed, owns Pasture, where they cook over fire, use the whole animal and preserve the bounty of past seasons with clever ferments, says from day one it was a given that their produce and animals would be sourced locally, but they also try to question beyond that.
"We've had some instances where we chose not to work with a supplier because we don't agree with their processes or their treatment of animals, there just hasn't been that synergy there. But that doesn't mean we are going to turn around and then fly something in from another country, it just means that it's not going to be on a Pasture menu."
READ: Edible Garden Tips with Tamsin Wilson
She says customers are also wisening up and becoming more curious. "Ten years ago it was all about saying, 'we have flown this in from here'. That's what diners wanted, and now it's really different. People are questioning, 'Where's this from? Where's that from?' And I think that's great."
They do things a bit differently at Pasture and have had to build dynamic relationships with their suppliers to do so. They want the whole animal before it's been butchered, fresh raw nuts before they've been aged or roasted, and vegetables picked at a certain time before they have been allowed to fully ripen.
Logistically, working directly with many small producers is challenging, but it also gives them the freedom to create unique dishes using ingredients such as muttonbirds from Stewart Island, buffalo and goat's milk direct from the farm, and bianchetto truffles, one of the rarest in New Zealand, dug up from the ground by a beagle named Rosie.
"If you look at how the New Zealand food scene has developed in the last 10 to 15 years it's just incredible," says Verner, "It's because we have suppliers, but also proprietors, just pushing and saying, 'let's really do this, let's try to develop this local market rather than focusing on export. Let's try to use local first, or if you can't choose local, don't choose it at all'."
READ: The Local Designers Embracing The Slow Fashion Movement
For many years, New Zealand's focus has been to export what it's well known for around the world — Canterbury lamb, Bluff oysters, the world's finest beef — but there is a shift in what we as New Zealanders consider to be the finest foods.
"We are and should become known for a greater diversity in product, as opposed to 'the big three'," says Hishon. "We are well known for beef, lamb and seafood because these have been export products for a long time. They are known as kiwi products because they are reaching customers across the world. There are many ingredients here that have huge scope, they just need to be given an audience first."
Hishon hopes the more adventurous diners become, the more that will trickle down to create an even greater variety in our food. "It's amazing to see the growing confidence in home cooks now, there really is a remarkable shift in what people are buying and creating at home.
It's fantastic for New Zealand on many levels if the diversity continues to grow from our local organic producers. I'd love to see multiple types of fruits and vegetables in our grocers. Not just the token orange carrot." This continued support of small-scale artisan producers, growers and farmers will only contribute to the abundance of what's available, by celebrating flavours and ingredients that nobody else in the world has.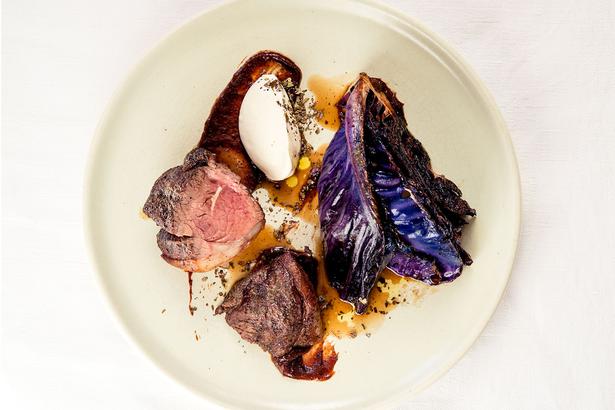 LOCAL FLAVOURS
Choosing local gives food its sense of place, says Orphans Kitchen head chef Tom Hishon, who created this lamb, cabbage and feijoa dish using just locally sourced, organic produce and ingredients
The meat
Lamb rump sourced from Leelands in Southland, farmed by Sue and Bill French, cooked over pohutukawa-wood fire. It's been rubbed with dried horopito leaves foraged from the central North Island, dried and sold by John Millward from Little Karoo in Coatesville.
The sauce
Feijoa relish made with organic feijoas and apples picked from community garden and city farm Kelmarna Gardens in Ponsonby.
The yoghurt
A quenelle of organic Greek yoghurt from Zany Zeus in Moera, Lower Hutt, hung and seasoned with raw garlic grown by Marlborough Garlic.
The vege
Organic red cabbage grown on the Cameron family farm in the Wairarapa, skillet-roasted in butter sourced from Canary Foods in Hamilton until beautifully charred.
To season
Seasoned with Marlborough flaky sea salt from Pacific Salt and sprinkled with rubbed horopito, used in place of black pepper.
To finish
Finished with spray-free Koroneiki extra virgin olive oil from Matakana Olive Co-op.
Share this: