The Best Avocado on Toast in Auckland
Instagram it, then devour it - the Viva team shares their favourite interpretations of avocado on toast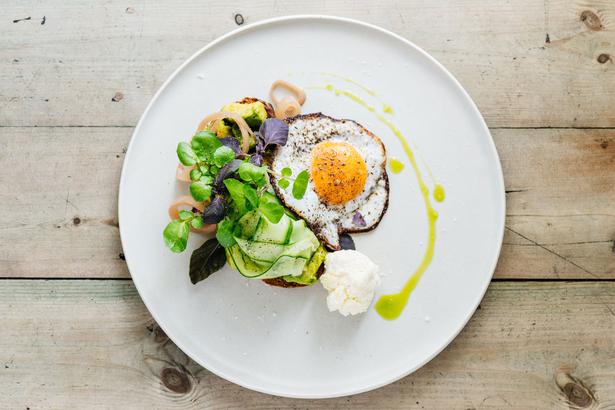 Thursday April 7, 2016
"The chef at Kokako is the sort of guy who says "Avocado on toast? Okay, we're going to need ricotta, pickled shallots, basil and watercress. Also, make sure the avos are organic and that we dice and dress them overnight in a fennel and herb oil. Put them on some of that dark rye bread. With an egg. Not a chicken egg, a duck egg! Did I mention the basil should be purple?" It sounds complex but it tastes simple — simply balanced, simply dressed and simply delicious. This is more than just avocado and toast and, once you've tried it, "just avocado and toast" will never again be enough." — Jesse Mulligan, Eating Out editor
• 537 Great North Rd, Grey Lynn, Auckland
"The fact that Elk Eatery is about 20 steps from our office front door, ensures this dish is on high repeat on my breakfast playlist. Two generous sized slices of sourdough are toasted and topped with advocado, crumbled feta, seeds, puffed quinoa, lemon zest, a sprinkle of microgreens and olive oil ($14.90). So hearty, it will keep me going for most of the day." — Amanda Linnell, editor
• Elk Eatery, Graham St, Freemans Bay.
"The smashed avocado at Catroux is pretty and delicious: lots of avocado on two pieces of seed-heavy Freedom Loaf bread by The Midnight Baker, topped with mozzarella, vine tomato, lemon oil, white balsamic and basil. The only thing missing to make it Instagram perfect is the chilli flakes." — Zoe Walker, associate editor
• Catroux, 129 West End Rd, Westmere
READ: Restaurant Reviews by Jesse Mulligan
"The Botanist do a no fuss avocado on toast with feta, mint, lemon and roast vine ripe tomatoes that's the perfect portion any time of day - especially with a cheeky glass of red." — Dan Ahwa, fashion editor
• 13/90 Wellesley St W, City Works Depot 
"I figure if you're going to pay for something you could make yourself at home, go somewhere you know does simple food well. Allpress Caffetteria on Drake Street in Freemans Bay fits the bill, with their yummy avo on toast available on a choice of Vogels, sourdough, walnut and raisin or rye." — Rebecca Barry Hill, writer
• 8 Drake St, Auckland City
Also worth a try...
• Seabreeze, Westmere
• Orphans Kitchen, Ponsonby
• Odettes, City Works
• Little Bird Unbakery, Ponsonby
• Meadow, Meadowbank

Share this:
More Food & Drink / Favourite Cafes