Baby Back Ribs Recipe
Try making this delicious dish from Masu at home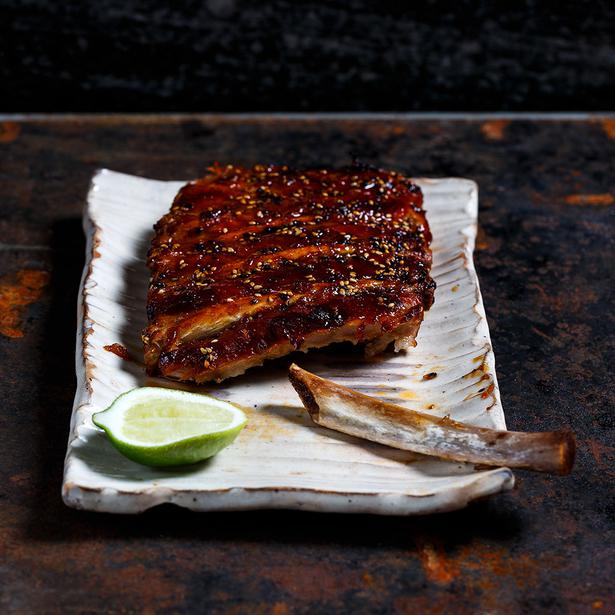 Wednesday Oct. 21, 2015
This baby back ribs recipe, which has been extracted from cookbook MASU by Nic Watt, is served with hot towels to clean your hands at the Auckland restaurant. That's because there's only one way to eat ribs – with your hands.

BABY BACK RIBS RECIPE
Cook time: 1 hour
Serves 4
Master stock
• 2 litres water
• 100 ml mirin
• 300 ml soy sauce
• 1 Tbsp sliced ginger
• 1 Tbsp sliced garlic
• 1 orange, sliced
• 1 cinnamon quill
• 1 red chilli, split
• 2 x 350 g baby back pork rib racks
Rib glaze
• 250 ml hoisin sauce
• 125 ml soy sauce
• 200 ml mirin
• 200 ml sweet chilli sauce
• 2 Tbsp sesame seeds
• lime cheek to serve

1. This master stock is a great way to get the ribs super-soft and falling off the bone.
2. Combine all of the master stock ingredients in a medium-sized saucepan big enough to take the pork racks as well. Bring to a simmer, then turn down the heat. Add the ribs and lightly poach for about 40 minutes. Allow the ribs to cool in the stock.
3. In a medium-sized bowl, combine the rib glaze ingredients and whisk together.
4. Heat up your charcoal barbecue to hot.
5. Remove the ribs from the stock and cook on the hot grill, basting every couple of minutes with the glaze until you get a delicious glaze and the edges caramelise. This will take a good 12–15 minutes. Take care while glazing, as it will burn easily.
6. Serve hot with a lime cheek on the side.

MASU by Nic Watt. Picture / Supplied.
• This recipe is extracted from MASU by Nic Watt, $59.99, published by Allen & Unwin, available from November 1.
Share this:
More Food & Drink / Recipes