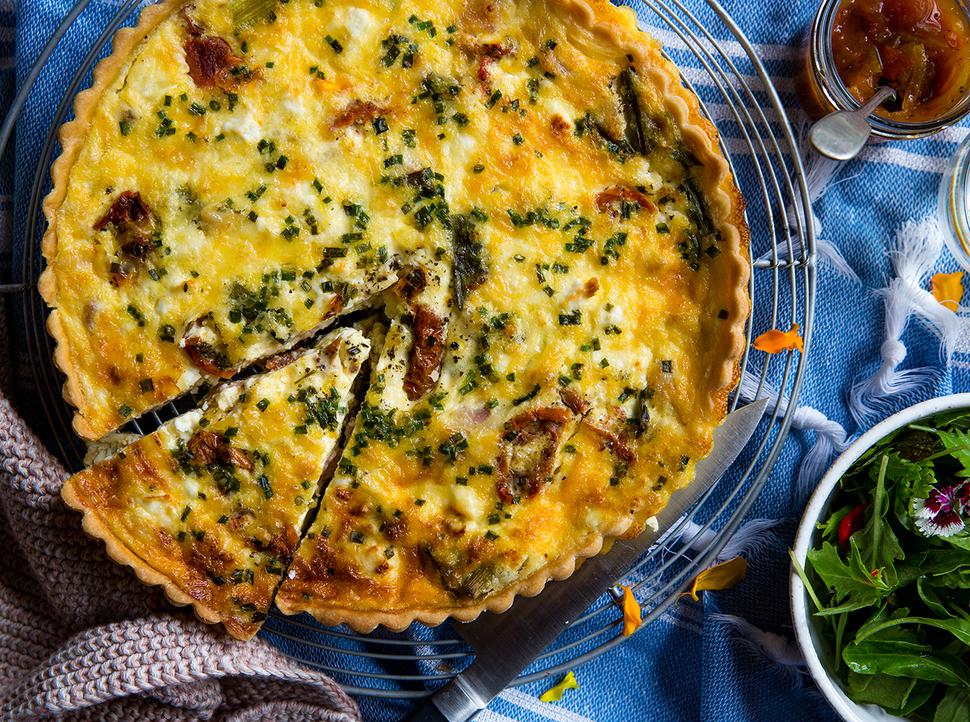 Bacon & Feta Picnic Quiche
A simple classic quiche recipe, this one packed full of bacon, feta and chives
Friday March 9, 2018
It feels as if quiche has been around forever, but the endless flavour combinations bring me back to it time and time again. One never gets tired of a savoury pastry encasing a delicious filling. Quiche is great the day after and perfect for transporting to a picnic. This version is packed full of flavour with bacon, feta and chives and will be a joy
come lunchtime.
PICNIC QUICHE
Serves 6
Pastry
1½ cups flour
¼ tsp salt
120g butter
1 egg
1-2 Tbsp cold water

Filling
1 Tbsp butter
1 onion, chopped
1 clove garlic
2 rashers bacon
3 eggs
1 cup milk
½ tsp each salt and freshly ground pepper
½ cup chopped sundried tomatoes
100g crumbled feta
¼ cup chopped chives
1. Preheat an oven to 180C.

2. To make the pastry, place the flour, salt and butter into a food processor and whizz until it resembles fine breadcrumbs. Add the egg and whizz. Add the cold water if needed to form the dough. Roll on a lightly floured bench to ¼ cm thick and line a 22cm quiche tin. Bake blind for 20 minutes. Turn the oven to 170C.

3. For the filling, heat the butter in a frying pan. Add the onion and garlic and cook for 3 minutes. Add the bacon and cook for another 3 or 4 minutes. Remove from the heat.

4. In a bowl whisk the eggs, milk, salt and pepper, then add the sundried tomatoes, bacon mix and crumbled feta. Pour into the pastry case, sprinkle with chives and place into the oven for 40 minutes until golden
and set.

5. Serve with a side salad and chutney.
Share this:
More Food & Drink / Recipes