Bacon and Vegetable Soup Recipe
Try this rich and hearty bacon and vegetable soup for a warming lunch or dinner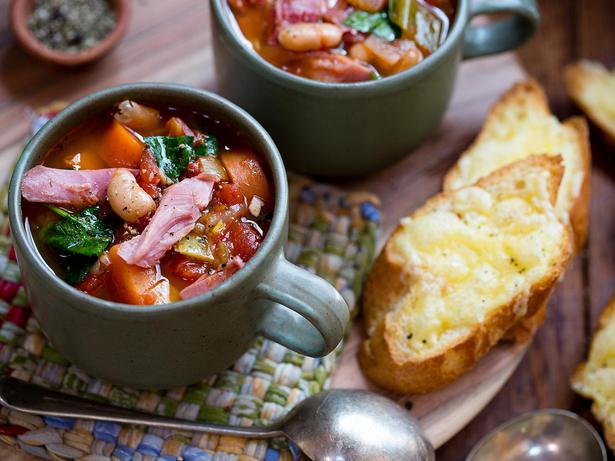 Friday July 21, 2017
For this vegetable and bacon soup I went out to buy a bacon hock and came home with a smoked one. I was a little worried it might overpower the soup, but instead it added a rich scent and wonderful flavour. When it comes to adding vegetables to soup, anything will do — so use this as an opportunity to clear out the fridge. The spinach here was a late addition from the garden.
HEARTY BACON AND VEGETABLE SOUP RECIPE
Serves 4-6
2 Tbsp olive oil
1 onion, chopped
3 cloves garlic, chopped
2 sticks celery, sliced thinly
1 leek, sliced
2 carrots, chopped roughly
1 bacon hock
420g tin chopped tomatoes
¼ cup each of marjoram, thyme and oregano leaves
1½ litres water
1 cup diced potato
420g tin cannellini beans, drained
Salt and pepper to taste
1 cup baby spinach leaves
1. In a large pot warm the oil. Add the onion, garlic, celery, leek and carrots cooking for 5 minutes or until starting to soften.
2. Add the hock, tomatoes, herbs and water bringing to a simmer for 1½ hours.
3. Add the potato and beans, continuing to cook for 20 minutes until softened. Remove the hock and using a fork, remove the meat, then return it to the pot and discard the hock.
4. Season with salt and pepper. Reheat the soup and just before serving add the spinach.
Share this: