Homemade Baked Beans Recipe with Rosti
Make your own baked beans with a side of crispy fried rosti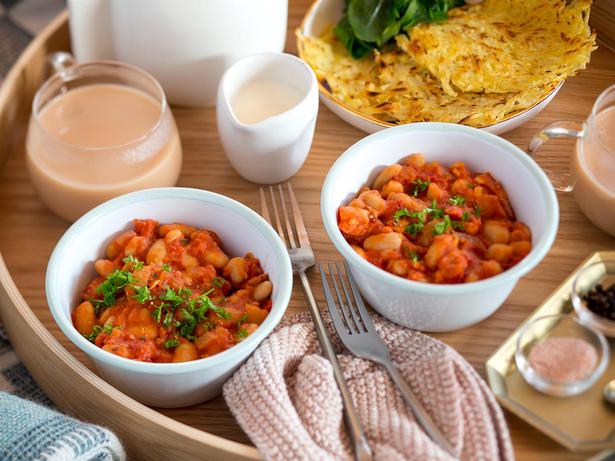 Friday June 30, 2017
Nothing beats homemade baked beans. Make these the day before to allow the flavours to develop, and then serve with crispy fried rosti as an tasty alternative toast.
HOMEMADE BAKED BEANS RECIPE WITH ROSTI
Serves 2
1 Tbsp oil
¼ onion, diced small
1 clove garlic, crushed
2 rashers bacon, chopped
390g tins butter beans, drained
250ml tomato passata
1 Tbsp tomato paste
½ tsp brown sugar
¼ tsp balsamic vinegar
¼ cup water
¼ tsp salt and pinch of freshly ground pepper
2 medium potatoes, peel and grated
Salt and pepper to season
1 Tbsp oil for frying rosti
1. In a medium-sized pot heat the oil. Add the onion and garlic, cooking for 2 minutes to soften. Add the bacon and cook for a further 3 or 4 minutes until lightly browned.
2. Pour in the beans, passata, tomato paste, sugar, vinegar, water, salt and pepper. Bring to a simmer for 15-20 minutes until the beans are soft and the tomato mixture thickened.
3. To make the rosti, place the grated potato into a clean tea towel and squeeze as much liquid out as possible. Place into a bowl and season with salt and pepper. Heat a little oil in a frying pan. Put a handful of potatoes into a circle 10cm in diameter flattening it to make the rosti. Cook for 4 or 5 minutes each side until crispy and golden.
4. Serve with a side of blanched spinach and sprinkle with parsley or coriander.
Share this:
More Food & Drink / Recipes