Baked Brie in a Sourdough Loaf Recipe
Baked brie cheese brings an extra sense of indulgence to this recipe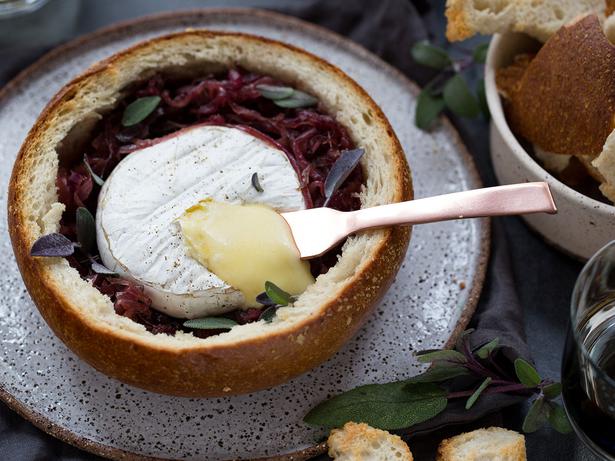 Friday April 28, 2017
Cooking with cheese brings an extra sense of indulgence to any dish; it can transform a simple pizza, risotto or salad. This baked brie in a sourdough loaf has a wonderful rustic feel. Remember, when you scoop out the inside of the bread, don't discard it. Break it into pieces and bake alongside the loaf to use as extra dipping sticks. For a short-cut version, use a store-bought onion jam as the base, but be sure to add the sage leaves for their point of difference and delicious flavour.
BAKED BRIE IN SOURDOUGH LOAF RECIPE
Serves 6-8
1 Tbsp olive oil
2 red onions, sliced thinly
2 Tbsp brown sugar
2 tsp balsamic vinegar
10 sage leaves, chopped
Salt and pepper to taste
1 small round sourdough loaf
Oil for brushing
1 small brie
Extra sage leaves to serve
1. Preheat an oven to 170C.
2. In a frying pan heat the oil. Add the onions and cook slowly for 10 minutes until completely soft. Add the brown sugar, balsamic, sage leaves, salt and pepper to taste, then cook for a further 10 minutes on low.
3. Slice a third from the top of the sourdough and remove the bread from the inside. Place the onions into the loaf and the brie into the middle. Brush the top of the loaf with olive oil, place it back on the loaf. Put it into the oven for 40 minutes until the outside is crisp and the cheese melted and gooey.
4. Serve hot with extra sage leaves. Break the crusty top and side of the loaf for dipping into the brie and onions.
Share this:
More Food & Drink / Recipes