Baked Fish with Fennel, Peppers and Feta Recipe
Enjoy the sweet flavour combinations in Angela Casley's baked fish recipe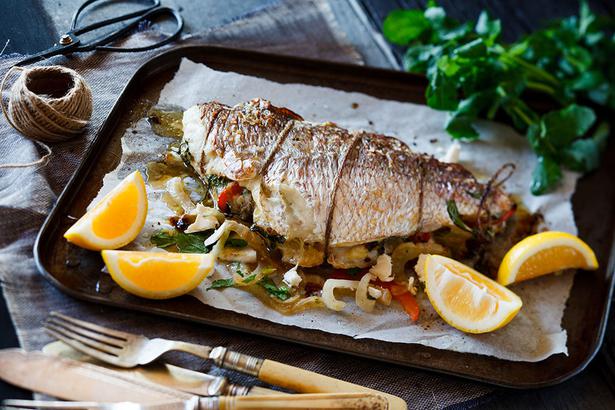 Thursday Aug. 27, 2015
BAKED FISH WITH FENNEL, PEPPERS AND FETA
Serves 4
2 small snapper, filleted, skin on
1 Tbsp oil
½ head fennel, sliced thinly
2 cloves garlic, crushed
1 red pepper, sliced thinly
100g feta
½ cup chopped watercress
¼ cup chopped parsley
Salt and pepper, to season
1. Set oven to 200C.
2. Heat the oil in a frying pan on medium heat. Add the fennel and garlic. Cook for 2 or 3 minutes then add the red pepper. Continue to cook until the vegetables have softened. Add the parsley and watercress. Let cool. Crumble in the feta and season with salt and pepper.
3. Lie two fillets skin down on a board. Spread the filling evenly on top. Place the remaining fillet on top, skin up. Tie the fish together securely with string or flax.
4. Drizzle with olive oil then bake in the oven for 20 minutes until cooked through. Remove from the oven, cut off the string and serve hot with a squeeze of lemon.
Share this:
More Food & Drink / Recipes