Baked Polenta Chips Recipe
This polenta chips recipe from Eleanor Ozich is flavoured with oregano and smoked paprika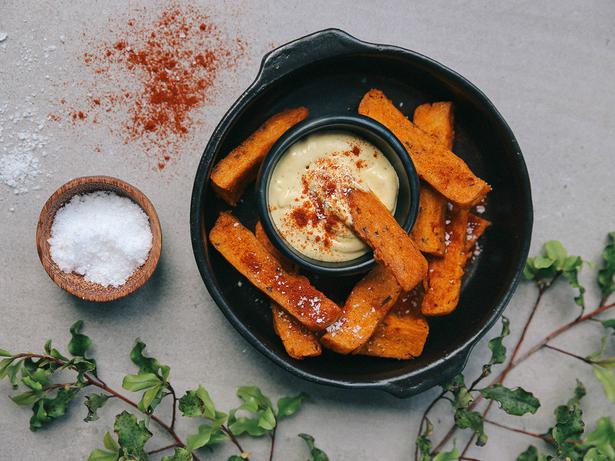 Thursday Sept. 15, 2016
This golden polenta chips recipe is dusted in smoked paprika and roasted until crisp. A dip of some sort is quite necessary, such as a simple, homemade aioli. Thick, greek yoghurt flecked with fresh herbs and a little lemon zest is another idea.
BAKED POLENTA CHIPS
Serves 4 
4 cups good quality chicken or vegetable stock
1½ cups finely ground polenta
½ cup grated parmesan
2 Tbsp butter
A large handful of oregano, finely chopped
2 Tbsp smoked paprika
Flaky sea salt
Olive oil for drizzling
1. Grease a large slice tin or square dish with olive oil, then set aside.
2. Bring the stock to a soft boil, then add the polenta in a steady stream, whilst whisking. Continue to whisk for a few more minutes until the mixture thickens. Remove from heat and whisk in the parmesan cheese, butter, and oregano.
3. Pour the polenta into the prepared dish, and smooth out the top using a spatula. Allow to cool slightly, then cover and refrigerate until completely cold, at least 2 hours.
4. Preheat oven to 180 C.
5. Turn out the polenta onto a chopping board, and slice it into thick chips. Sprinkle generously with smoked paprika on all sides.
6. Place the chips on a baking tray lined with baking paper. Drizzle well with olive oil, then sprinkle with flaky salt.
7. Bake in the oven for 25-35 minutes, or until golden and crispy.
Share this:
More Food & Drink / Recipes