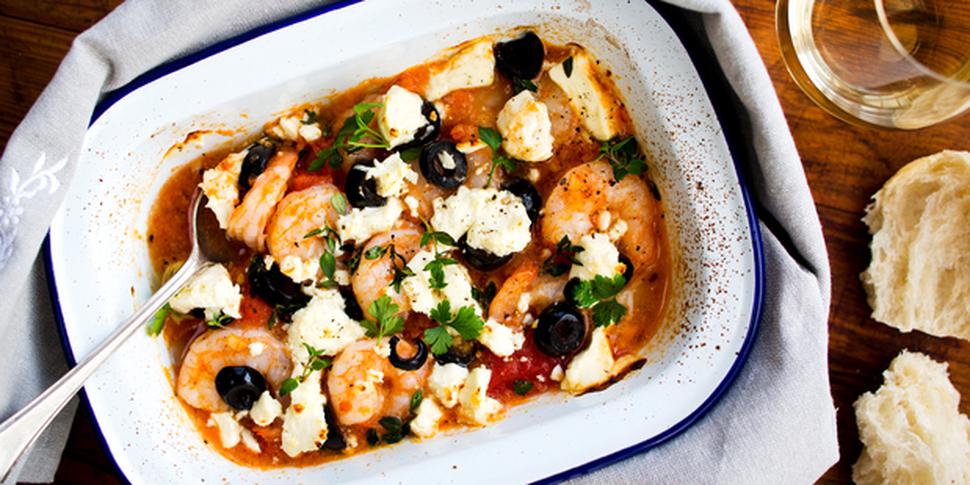 Baked prawns with feta and olives
Friday July 11, 2014
Baked prawns with feta and olives
Serves 4
• 1 Tbsp olive oil
• 3 cloves garlic
• 4 ripe tomatoes, peeled and cut in quarters
• ½ tsp sugar
• Salt and pepper, to taste
• 2 Tbsp olive oil
• 500g raw prawns
• 1/3 cup sliced olives
• 100g feta
• A few thyme sprigs
1. Preheat grill to hot.
2. Place the first measure of olive oil and 2 cloves of garlic in a small pot. Warm through until garlic is just starting to cook. Add tomatoes and sugar, then cook for a few minutes until softened and saucy. Season with salt and pepper.
3. Heat second measure of oil in a frying pan, add remaining clove of garlic, then the prawns. Toss in the pan until just cooked (3 or 4 minutes).
4. Place prawns in an ovenproof dish. Sprinkle on olives, crumble over the feta and thyme sprigs. Season with black pepper.
5. Place dish under grill until feta starts to melt and brown. Serve hot with crusty bread.
Share this: