Baked Tomatoes with Spicy Sausage Recipe
Bake these tomatoes with a simple, tasty filling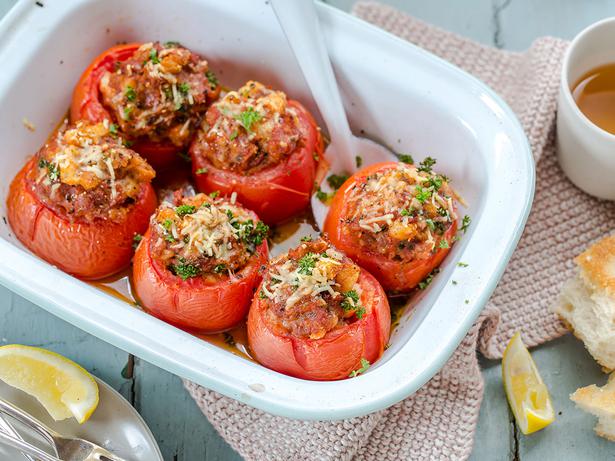 Friday Feb. 24, 2017
Over the summer, I've been enjoying tomatoes tossed into salads, eaten with fresh mozzarella and basil and sliced on cheese and crackers. So it's time to change it up and bake some bigger ones with a simple, tasty filling. I have used a spicy sausage, but keep it mild if you are feeding the children. These also make a great quick lunch.
BAKED TOMATOES WITH SPICY SAUSAGE RECIPE
Makes 8
8 large tomatoes
6 spicy sausages
½ cup bread crumbs
½ cup chopped parsley
1 Tbsp lemon zest
¾ cup grated parmesan
1 Tbsp parsley for garnish
1. Preheat oven to 170C.
2. Cut top off tomatoes. Using a small sharp knife cut around the inside without slicing the sides and remove and discard seeds and pulp. Tip upside down on a paper towel to drain.
3. Squeeze meat from sausages into a large bowl. Add breadcrumbs, parsley, lemon and ½ cup parmesan. Mix thoroughly then place in the tomatoes. Sprinkle with remaining parmesan.
4. Bake for 20 minutes until soft and the sausage meat is cooked and golden.
5. Serve hot with a sprinkle of parsley and a side salad.
Share this:
More Food & Drink / Recipes