Baklava Recipe
This baklava will satisfy any sweet tooth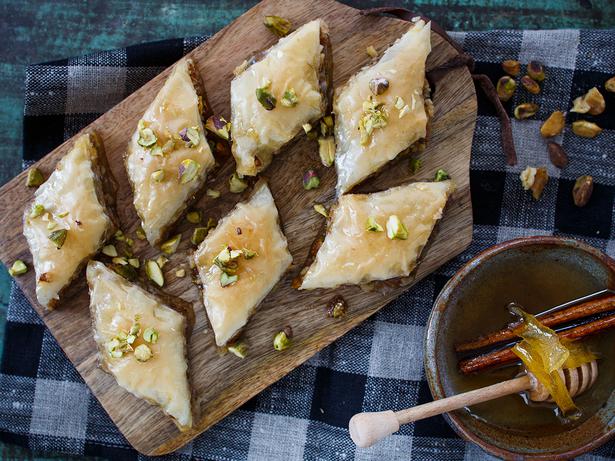 Wednesday Jan. 14, 2015
BAKLAVA
Makes 24 pieces
Syrup
1 cup sugar
½ cup runny honey
1 cinnamon stick
½ tsp ground cardamom
4 pieces lemon peel
Juice of 1 lemon
1 cup water
2 Tbsp corn syrup (optional)
Base
3½ cups roughly chopped pistachios and walnuts
½ cup sugar
2 tsp cinnamon
¼ tsp cardamom
½ cup melted butter
375g filo pastry
1. Set oven to 170C.
2. To make syrup place sugar, honey, cinnamon, cardamom, lemon, water and corn syrup in a pot. Simmer for 15 minutes until syrupy and reduced slightly. Set aside to cool.
3. Mix together nuts, sugar, cinnamon and cardamom.
4. Brush base of a 20 x 30cm tin with melted butter. Trim sides of filo to fit tin. Spread out 2 sheets of filo then spread with butter. Continue until base is 8 layers thick. Sprinkle a third of nuts and sugar over. Layer with another 2 sheets of filo, butter and another third of the nuts, then repeat. For the top, layer 2 filo sheets and butter until it is 6-8 layers thick. Butter top. Cut four even strips lengthwise down the tin. Cut on a diagonal into diamonds.
5. Bake for 30 minutes. If too brown after 10 minutes, cover with foil and continue to cook. Remove foil for the last 5 minutes. Remove from the oven and pour half the syrup over. Cool for 30 minutes then add remaining syrup. Baklava will keep for up to two weeks.
Share this:
More Food & Drink / Recipes