Banana Cake with Caramel Walnuts Recipe
This banana cake is made more scrumptious topped with decadent caramel walnuts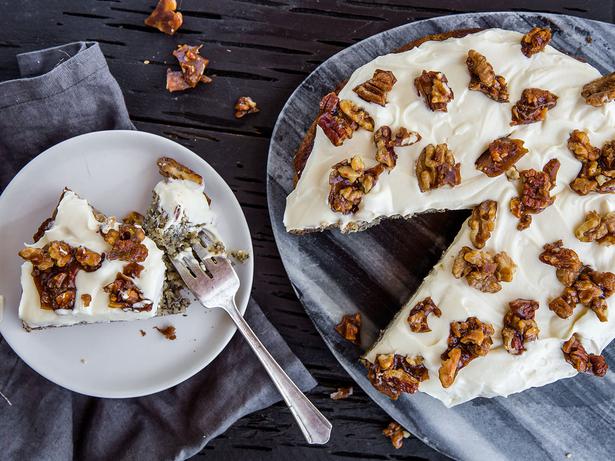 Friday March 3, 2017
This moist banana cake recipe is a favourite since my childhood. I've added some decadent caramel walnuts on top. Adding a bit of butter to the caramel means you're less likely to burn it — but don't walk away and leave it. This cake will keep in the fridge for several days. Use the bananas which have been sitting in the fruit bowl for a few days as they will will have more flavour — the browner the better.
BANANA CAKE WITH CARAMEL WALNUTS RECIPE
Serves 8
110g butter
140g sugar
1 tsp vanilla
2 eggs
2 large bananas, mashed
1 tsp baking soda
1 tsp baking powder
2 Tbsp hot milk
220g plain flour
Caramel Walnuts
1 Tbsp butter
¼ cup sugar
½ cup walnuts, broken roughly
Icing
30g butter
100g cream cheese
½ teaspoon vanilla
1 ½ cup icing sugar
1 tsp lemon zest
1 Tbsp lemon juice
1. Preheat an oven to 170C. Line a 22cm cake tin with baking paper.
2. Place butter and sugar in a bowl and beat until light and creamy. Add vanilla and eggs one at a time, beating through. Stir in bananas.
3. Dissolve baking soda in milk, then add to the creamed mixture along with the baking powder and flour, combining well. Pour into the cake tin and bake for 40 minutes or until a skewer comes out clean. Cool in the tin before removing.
4. To make the caramel walnuts, line an oven tray with baking paper. Place the butter and sugar into a heavy based pan. Stirring as it melts cook for 5-8 minutes until a golden caramel colour. Stir in the nuts then tip on to your lined tray. Cool completely then break into pieces.
5. To make the icing, beat the butter, cream cheese and vanilla until well combined. Stir through the icing sugar, zest and lemon juice until smooth and spreadable.
6. Place the cake on a platter, ice and scatter with nuts.
Share this:
More Food & Drink / Recipes