Banana Cake Recipe with Macadamia and Blackberry
Topped with cream cheese frosting, this delicious cake by Eleanor Ozich is perfect for celebrating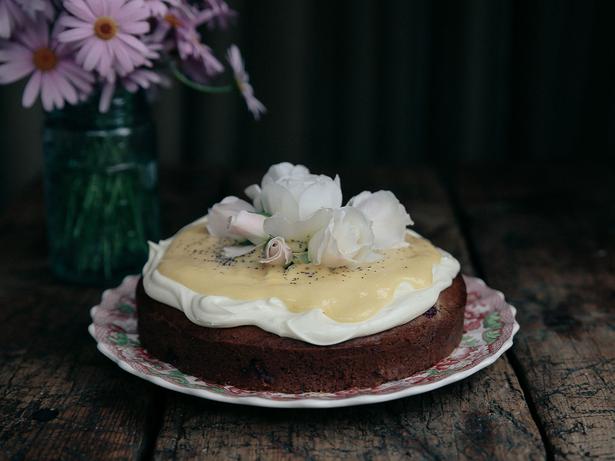 Thursday Sept. 24, 2015
If you have something to celebrate, I suggest you should make this magnificent banana cake recipe with macadamia, blackberry and topped with cream cheese frosting and honey sweetened lemon curd. Oh my, it is so brilliantly delicious, moist, sweet and packed full of wholesome goodness.

BANANA CAKE RECIPE WITH MACADAMIA AND BLACKBERRY TOPPED WITH LEMON CURD
Serves 8 generously 
• 3 large ripe bananas
• 4 Tbsp honey
• 1 cup macadamias, or nuts of your choice
• 1½ cups spelt flour*
• 2 large free range eggs
• 3/4 cup melted coconut oil or neutral olive oil
• 1½ cups blackberries, fresh or frozen
• 1 tsp ground cinnamon
• 2 tsp vanilla extract
• 1 tsp baking soda
Topping
• ½ cup cream cheese, mascarpone or whipped coconut cream to become dairy free
• 2 Tbsp butter or coconut oil, melted
• ½ cup lemon curd
• Flowers of your choice for decorating
• A pinch of poppy seeds
* You could use buckwheat, rice flour, quinoa flour or all GF flour of your choice to become gluten free.
1. Preheat oven to 160C, and grease a cake tin.
2. Add bananas, honey, macadamias, flour of your choice, eggs, coconut oil, ground cinnamon, vanilla and baking soda to a food processor. Process until smooth. Gently fold in blackberries.
3. Pour batter into prepared cake tin, and then bake in oven 30-40 minutes, or until a skewer comes out clean when inserted. The cake will have risen nicely, and will spring back nicely when touched in the centre.
4. Leave to cool in tin, and then carefully transfer to a large plate.
5. In a small bowl, combine cream cheese and coconut oil or butter, and mix until soft and creamy. Spread evenly on top of the cake, and then top with lemon curd.
6. Decorate with flowers if using, and a sprinkle of poppy seeds.
Share this:
More Food & Drink / Recipes