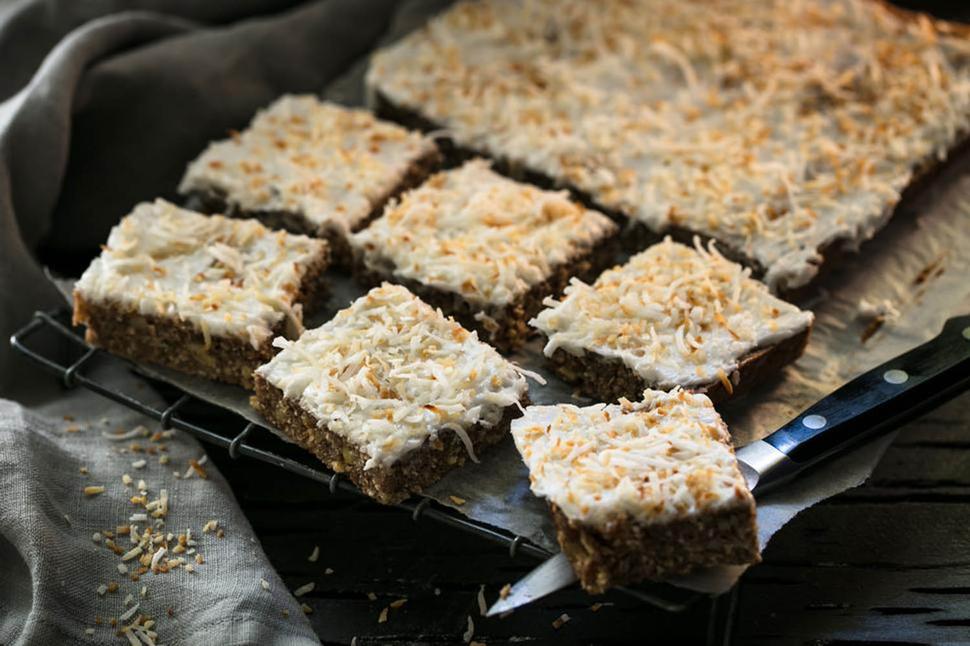 Banana Coconut Slice
A decadent raw slice that's packed full of natural goodness and the perfect snack to have on hand when you're in a hurry
Thursday April 26, 2018
For a non-bake slice, give this oat and banana number a go. It takes 10 minutes to put together before you simply cut and freeze to enjoy later. I usually slice and place it in an airtight container, so it's ready for one of those 'I need a snack now' moments.
Banana Coconut Slice
Makes 16 pieces
1 cup pitted dry dates
1 banana
1 cup desiccated coconut
1 cup whole grain oats
½ cup walnuts
½ cup seeds, e.g. pumpkin and sunflower
2 Tbsp LSA
1 cup coconut cream
2 Tbsp toasted coconut (desiccated or shredded)
1. Line a 20 x 20cm tin with baking paper.
2. Soak the dates in boiling water for 15 minutes. Drain.
3. Into a food processor place the dates and banana, whizzing together. Add the coconut, oats, walnuts, seeds and LSA, blitzing until well combined.
4. Press the mixture into the tin and freeze for 2 hours.
5. To whip coconut cream, place in the fridge for several hours to cool. Beat for 3 or 4 minutes until light and fluffy.
6. Spread over the slice, sprinkle over coconut and return to freezer. Slice when chilled and place into a container.
Share this:
More Food & Drink / Recipes