Viv's Sticky Banana and Date Puddings Recipe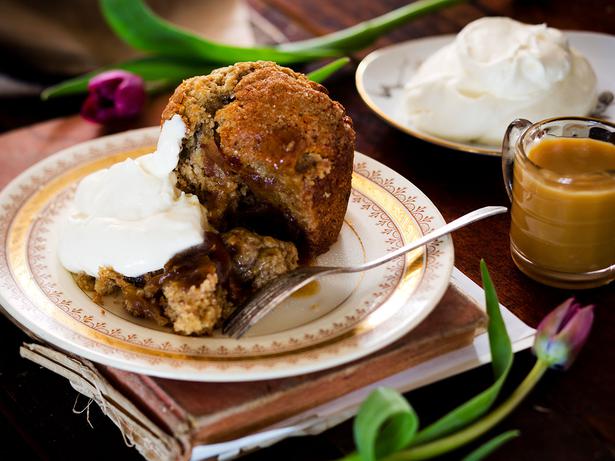 Friday May 16, 2014
VIV'S STICKY BANANA AND DATE PUDDINGS
Makes 6
120g butter, softened
60g Demerara sugar
50g caster sugar
2 ripe bananas, 1 mashed, 1 sliced
1 egg
1 tsp vanilla
300g flour
2 tsp baking powder
120ml water
12 dates, fresh preferably, cut into pieces
½ tsp baking soda
2 Tbsp Demerara sugar
Caramel Sauce
½ cup cream
½ cup sugar
30g butter
1. Preheat an oven to 180C. Butter the inside of 6 ramekins or cups and dust lightly with flour.
2. Beat the butter and sugar until well combined. Add the mashed banana, egg and vanilla then mix well. Sift in the flour and baking powder and combine well.
3. In a small pot place the water, dates and sliced banana and bring to a boil. Remove from the heat and add the baking soda. Pour into the pudding mixture and combine.
4. Spoon the mixture into your greased ramekin. Sprinkle with the extra sugar. Place into the centre of the oven for 20 minutes. The pudding will still be sticky in the middle. Remove from the oven.
5. To make the caramel sauce - combine the cream, sugar and butter in a small pot. Bring to a simmer for 3-4 minutes. Remove from the heat.
6. Serve the puddings warm or cold with caramel sauce and lightly whipped cream.
Share this:
More Food & Drink / Recipes