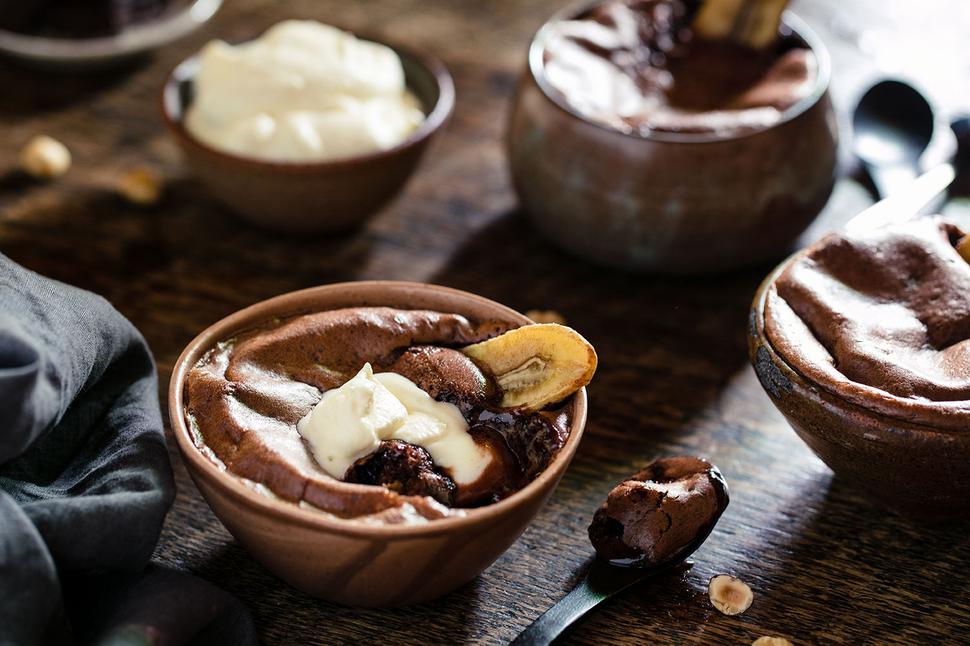 Banana, Hazelnut & Chocolate Puddings
These prep-ahead puddings are perfect when a sugar craving strikes
Friday March 22, 2019
These banana puddings can be prepared ahead of time and placed in the fridge until you are ready to bake, to ensure you can enjoy them hot from the oven with your flatmates (lucky them). Don't forget cream or icecream to serve.
BANANA, HAZELNUT & CHOCOLATE PUDDINGS RECIPE
Makes 4-6

100g butter, cut into cubes
100g chopped dark chocolate
1 egg, plus 1 yolk
100g brown sugar
80g self-raising four
¼ cup chopped hazelnuts
2 small bananas, halved, cut lengthways
Lightly whipped cream to serve
1. Preheat an oven to 200C. Grease four tea cups or ramekins.
2. In a bowl over simmering water place the butter and chocolate until melted and smooth. Remove from the heat.
3. Beat the eggs and sugar until light and creamy. Fold in the chocolate, flour and hazelnuts.
4. Pour the mixture into your cups, then poke in the bananas leaving a piece sticking out.
5. Bake for 15 minutes. Remove and cool for five minutes before serving with whipped cream.
Share this:
More Food & Drink / Recipes