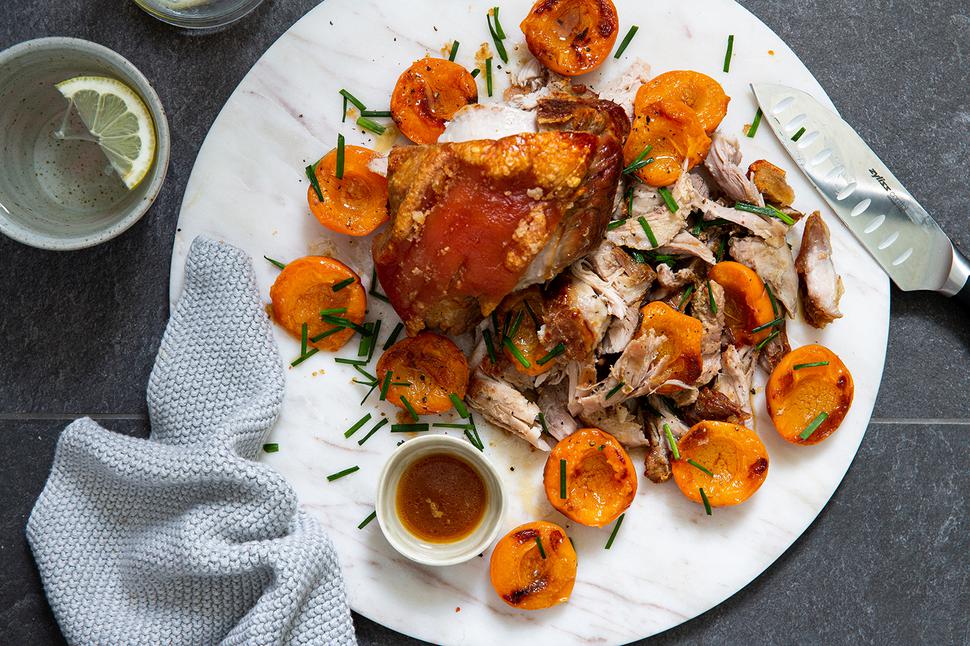 Roasted Pork Leg & Apricots Recipe
The apricots' natural sugars bring a sweetness to this moreish meal
Wednesday Jan. 27, 2021
If your pork has a bone, add 45 minutes to the cooking time. Simple flavours on the pork mean the cooked apricots have their day with a delicious, rich sweetness.
Lining the baking tray makes life easier on the dishwasher, with no sticky mess. Cooking apricots extracts all their wonderful natural sugars.
BARBECUE PORK LEG AND APRICOTS
Serves 6
½ head fennel, chopped
1.2kg piece boneless pork leg
1 Tbsp olive oil
1 tsp salt
1 cup white wine
8-10 apricots, halved and stones removed
1 Tbsp fennel oil
¼ cup chopped chives
1. Preheat oven to 200C. Line a roasting dish with paper.
2. Place fennel in the base of the dish and top with pork. Score the skin with a sharp knife 1cm apart, rub with oil and sprinkle with salt. Place into a preheated oven for 30 minutes.
3. Add wine to the base of the pork, cover with tinfoil and cook for a further 2 hours. Remove the cover and add the apricots. Drizzle them with fennel oil and place back into the oven for 20 minutes until the apricots are squishy and juicy. Remove from the oven and let the pork sit for 10 minutes. Pull the pork into pieces with two forks.
4. Plate the pork on top of the fennel, surrounded by the apricots, add a sprinkle of chives and serve with the juices on the side and your favourite vege or salad.
Share this: