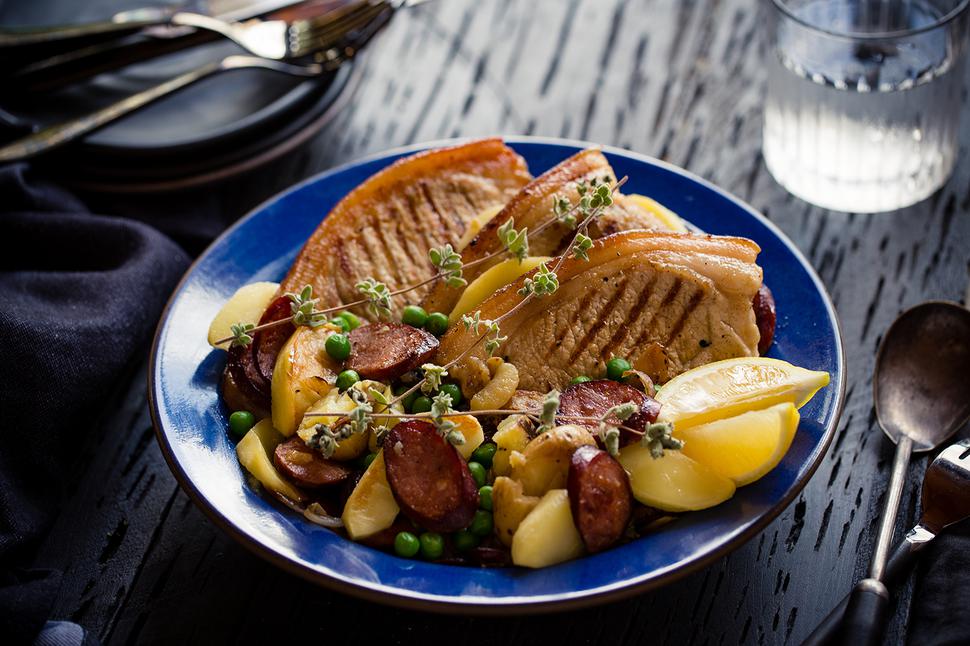 Barbecued Pork Chops with Chorizo and Pea Mash
Chorizo adds instant flavour to any meal, and this recipe is a quick way to put dinner on the table
Tuesday April 16, 2019
This recipe is a quick way to put dinner on the table. Use potatoes left over from the night before if you have them and frozen peas — simple. A chorizo sausage adds instant flavour to any meal. For a slighly different version, add a tin of crushed tomatoes to the chorizo mixture.
Barbecued Pork Chops with Chorizo and Pea Mash
Serves 4
Ingredients
500g baby potatoes
¼ cup olive oil
1 chorizo sausage, sliced
2 Tbsp chopped fresh oregano
1 cup peas
1 Tbsp lemon zest
4 x pork chops
Salt and freshly ground pepper
Lemon wedges to serve
Garnish with oregano leaves
Method
1. Boil the potatoes in salted water for 15 minutes or until cooked through. Drain and mash roughly with a fork, stirring though the olive oil.
2. Lightly brown the chorizo sausage in a frying pan. Add the potatoes, oregano and peas, lightly crushing the peas into the mixture. Stir though the lemon zest.
3. Heat another frying pan or barbecue grill to a medium heat. Season the pork chops. Cook for 5-7 minutes each side until cooked through.
4. Pile the potatoes on to a serving platter and place the chops on top. Garnish with oregano and lemon wedges.
Share this: