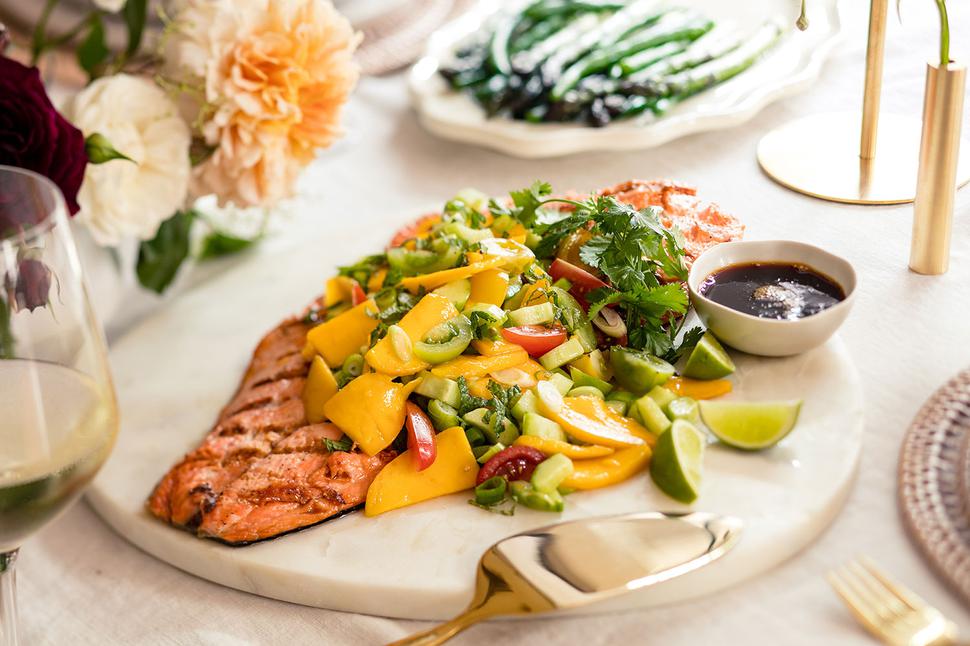 Barbecued Teriyaki Salmon With Mango Salsa
Impress this festive season with an elegant side of salmon
Friday Nov. 30, 2018
This teriyaki salmon recipe will be my contribution on Christmas Day. It's served very simply with a home-made teriyaki sauce and mango salsa. There are beautiful, large and juicy mangoes in stores at the moment that are too hard to walk by. They make a lovely sweet salsa.
BARBECUED TERIYAKI SALMON WITH MANGO SALSA RECIPE 
Serves 8
Teriyaki sauce
1/2 cup soy sauce
1/2 cup mirin
1/2 cup chicken stock
2 slices fresh ginger
1 tsp arrowroot

Salsa
1 large mango, peeled and chopped small
2 spring onions, sliced
1/2 cup chopped cherry tomatoes
1/2 cup chopped coriander
1/4 cup chopped mint
Zest and juice of 1 lime
1 large side salmon, bones removed
Lime wedges to serve
1. Into a small pot place the soy, mirin, stock and ginger. Bring to a simmer for 10 minutes until starting to reduce. Stir the arrowroot into 1 Tbsp water then add to the sauce stirring until it has thickened slightly. Set aside.
2. To make the salsa, in a bowl combine the mango, spring onions, tomatoes, lime, coriander and mint.
3. Preheat a barbecue hotplate to a medium heat. Place the salmon flesh side down on the hotplate, cooking for 4 minutes, then turn and continue to cook through. Remove and place on to a platter.
4. Spread the salsa over the salmon and serve with the teriyaki sauce and lime wedges.
Share this: