Spring Vegetable and Barley Risotto Recipe
There's nothing like the first taste of spring asparagus in this simple risotto recipe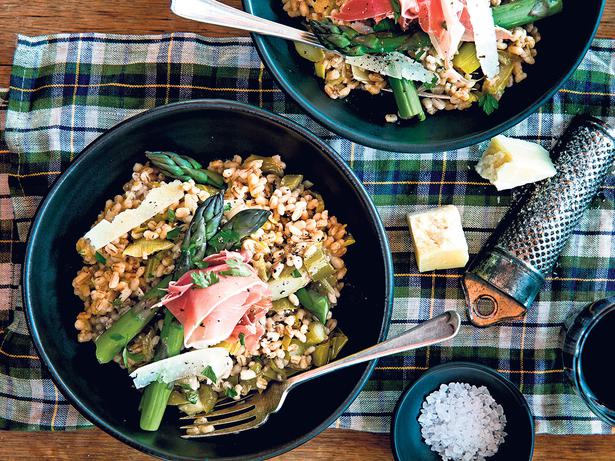 Friday Sept. 23, 2016
There is nothing like the first taste of spring asparagus. It is so sweet and delicious. Don't waste any of it. Slice the tougher ends into thin pieces and add with leeks to this simple-to-make risotto recipe. Barley, which is traditionally thrown into soups and casseroles to thicken them, is perfect for this risotto, as it adds a slightly nutty flavour.
SPRING VEGETABLE AND BARLEY RISOTTO RECIPE
Serves 4
1 Tbsp butter
1 Tbsp olive oil
1 large leek, sliced thinly
3 cloves garlic, crushed
2 cups barley
¼ cup white wine
5 cups chicken stock
1 bunch asparagus, cut in half
½ cup grated parmesan
Zest and juice of 1 lemon
Salt and pepper to taste
4 slices prosciutto
1. In a heavy based saucepan heat the butter and oil. Add the leek and garlic, cooking for a few minutes without browning, until softened. Add any tougher ends of asparagus here.
2. Add the barley and stir for 1 minute. Pour in the wine, bring to a simmer. Once it has evaporated, add the stock in two batches, stirring occasionally to ensure it doesn't stick to the bottom. Continue to cook for 20 minutes then add the asparagus and continue to cook for 5 minutes.
3. Stir through the parmesan and lemon. Season with salt and pepper.
4. Serve hot topped with a piece of prosciutto.
Share this:
More Food & Drink / Recipes