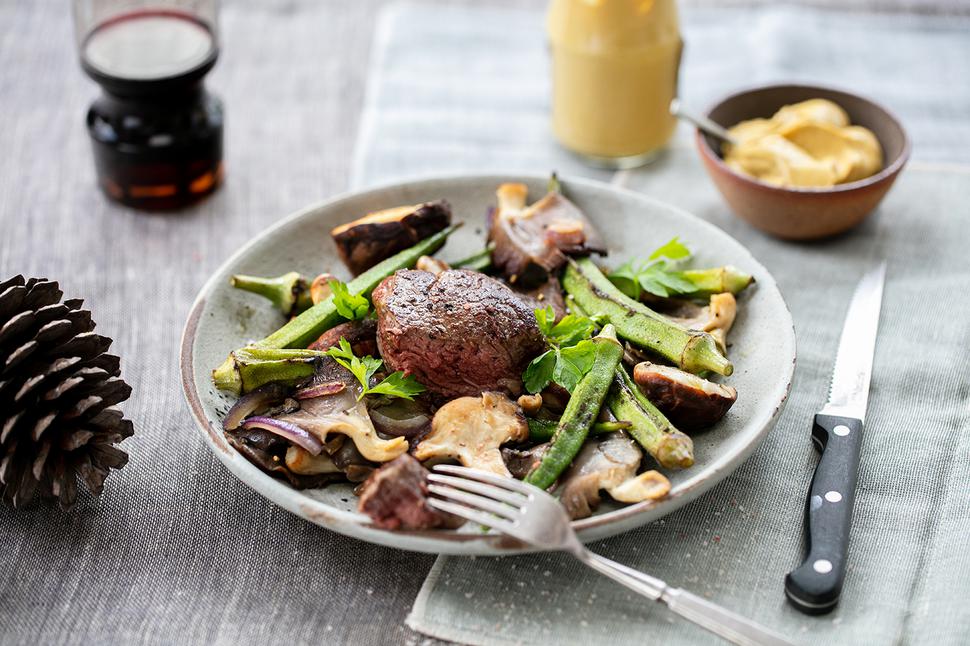 Beef Fillet With Wild Mushrooms & Okra
Sample fresh, crisp okra in this hearty meal to clamour after
Monday May 3, 2021
Okra is sometimes called lady fingers and is usually available at fruit and vegetable grocers if not at your local supermarket. Give it a try, the taste is quite delicious, especially when charred with a steak and mustard dressing. Eye fillet matches beautifully with this salad.
BEEF FILLET WITH WILD MUSHROOMS AND OKRA RECIPE
Serves 4
Dressing
¼ cup olive oil
2 Tbsp white wine vinegar
1 clove garlic, crushed
2 tsp Djion mustard
2 tsp runny honey
Salad
4 x 100g eye fillet steaks
1 Tbsp olive oil
Salt and pepper, to season
2 Tbsp butter
½ red onion, sliced
2 cloves garlic, sliced
10 okra
300g wild mushrooms
Torn Italian parsley, to garnish
Optional, mustard to serve
1. Firstly, make the dressing. Place the oil, vinegar, garlic, mustard and honey into a small jar, shaking well.

2. Preheat a barbecue hotplate (or frying pan) to a medium/high heat. Rub the steaks with oil, then season with salt and pepper. Cook for 3-4 minutes each side depending on the thickness of the meat. Remove and set aside to rest.

3. Melt the butter on the hotplate. Add the onion, garlic, okra and mushrooms, tossing for a few minutes until softened. Season with salt and pepper. Remove and place into a bowl.

4. Toss the vegetables with the dressing. To serve, plate the salad and top with a steak.
Share this: