Beef Goulash Recipe
When this beef goulash is cooked to succulent perfection, you'll enjoy its array of flavours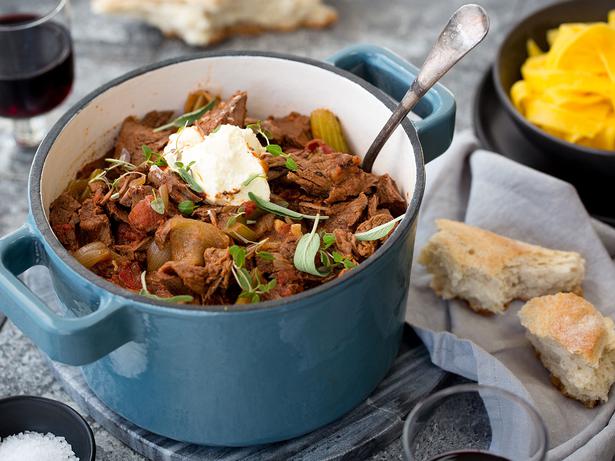 Friday April 21, 2017
There is nothing more satisfying than putting tough-looking meat into the oven for a couple of hours with an array of flavours and it coming out extremely tender and succulent. Walk away and return to those delightful smells. Sometime I like to throw a green vegetable on top for the last 10 minutes, then stir it through. This adds colour and saves on washing up.
BEEF GOULASH RECIPE
Serves 4
2 Tbsp olive oil
2 onions, chopped roughly
4 cloves garlic, crushed
2 sticks celery, sliced
800g beef rump or stewing steak, cut in 3cm cubes
1 Tbsp paprika
½ bottle red wine
420g tin chopped tomatoes
1 Tbsp balsamic vinegar
2 tsp brown sugar
1 stalk sage leaves
Pinch chilli flakes
Salt and pepper to taste
Sour cream to serve
1. Preheat an oven to 160C. In a large frying pan, heat the oil. Add the onions, garlic and celery, cooking for 5 minutes to soften, then place in a casserole dish. Add steak to the pan in batches to brown, then add to the onions.
2. Into the casserole dish, add the paprika, wine, tomatoes, vinegar, sugar, sage leaves, chilli, salt and pepper. Cover and place into the oven for 2½ hours, stir and check for tenderness. The best way is to pull a piece of meat apart. Cook for a further 30 minutes or until the meat falls apart with a fork.
3. Serve with a blob of sour cream and crunchy bread to soak up the juices.
Be inspired by the good things in life. Sign up now to receive emails from Viva, and twice a week you will be sent the latest news, profiles, videos, fashion shoots, competitions and more.
Share this: