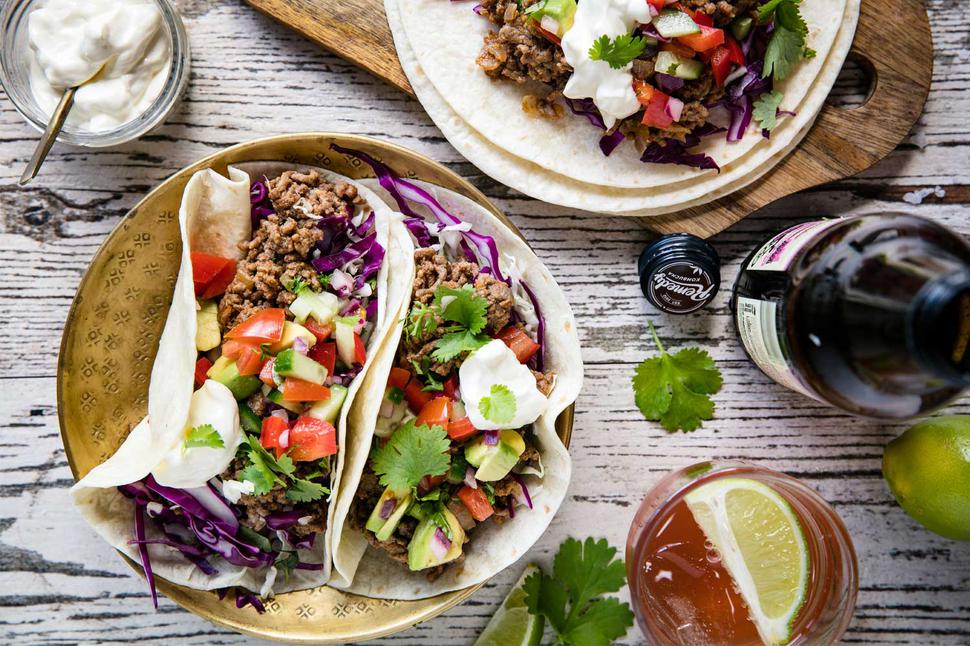 Soft Beef Mince Tacos With Fresh Salsa
Embrace the exciting world of Mexican flavours with this quick, simple and easy to execute number
Thursday May 17, 2018
This beef taco recipe is simple to make and goes a long way. The ingredients can be diced, sliced and mixed ahead of time, making serving quick and simple. They're perfect for lunch the following day if there are leftovers.
BEEF TACOS
Serves 4
1 Tbsp oil
1 onion, chopped
2 cloves garlic, crushed
400g beef mince
1 Tbsp taco seasoning
1 cup tomato passata
Salt and pepper to taste
Salsa
½ red onion, chopped finely
½ red pepper, chopped
2 tomatoes, chopped
½ cup diced cucumber
½ avocado, diced
½ cup chopped coriander
2 Tbsp lemon or lime juice
Salt and freshly ground pepper
To serve
8 small tortillas
2 cups shredded red cabbage
½ cup sour cream
 1. Heat the oil in a frying pan. Add the onion and garlic and cook for 3 minutes to soften. Add the mince and fry until brown, squashing with a fork as you go to break it up. Stir through the seasoning then add the passata and salt and pepper, cooking until the mixture has thickened. Keep warm.
2. To make the salsa, combine the onion, pepper, tomatoes, cucumber, avocado, coriander, lemon, salt and freshly ground pepper to taste in a small bowl and mix well.
3. Warm the tortillas in a microwave for 1 minute or wrap in tinfoil and place in the oven for 10 minutes.
4. Serve the taco with some cabbage, mince, a dollop of sour cream and salsa.
Share this: