Beef Noodle Salad Recipe
Cook the beef for this beef noodle salad on the barbecue while the evenings are still long and warm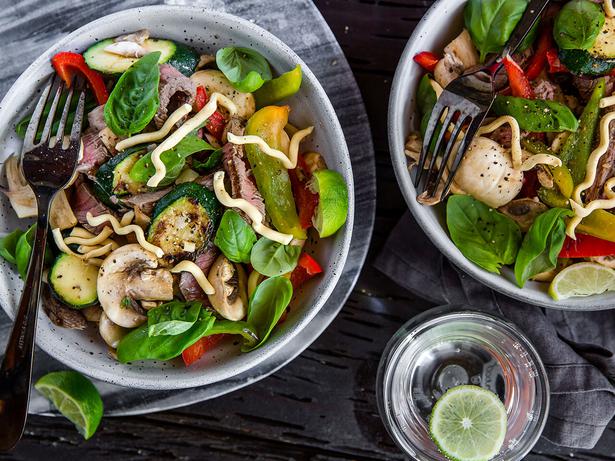 Friday March 3, 2017
As the barbecue is still out, I used it to cook the meat for this beef noodle salad. There are no pots and pans needed here — a bit of slicing and dicing and a quick fry on the barbecue and, voila, dinner is served.
BEEF NOODLE SALAD RECIPE
Serves 4
Dressing
Zest of 1 lemon
¼ cup lemon juice
2 tsp fish sauce
2 tsp sesame oil
2 Tbsp honey
1 Tbsp grated fresh ginger
½ cup basil
Salad
400g sirloin steak
1 Tbsp oil
1 tsp paprika
Salt and pepper to season
½ red and ½ green pepper
200g mushrooms, halved
3 courgettes, sliced
2 cups crispy noodles
1 cup basil leaves
1. To make the dressing, place lemon, fish sauce, sesame, honey, ginger and basil in a jar and shake well to combine.
2. Rub steak with oil, paprika, salt and pepper.
3. Preheat a barbecue to a high heat. Cook the steak for 3 or 4 minutes each side. Set aside.
4. Cook the peppers, mushrooms and courgettes on the grill until just cooked.
5. Place the vegetables in a large bowl, Slice the meat thinly and add to the bowl. Toss through the dressing, crispy noodles and basil. Serve immediately with extra basil leaves to garnish.
Share this: