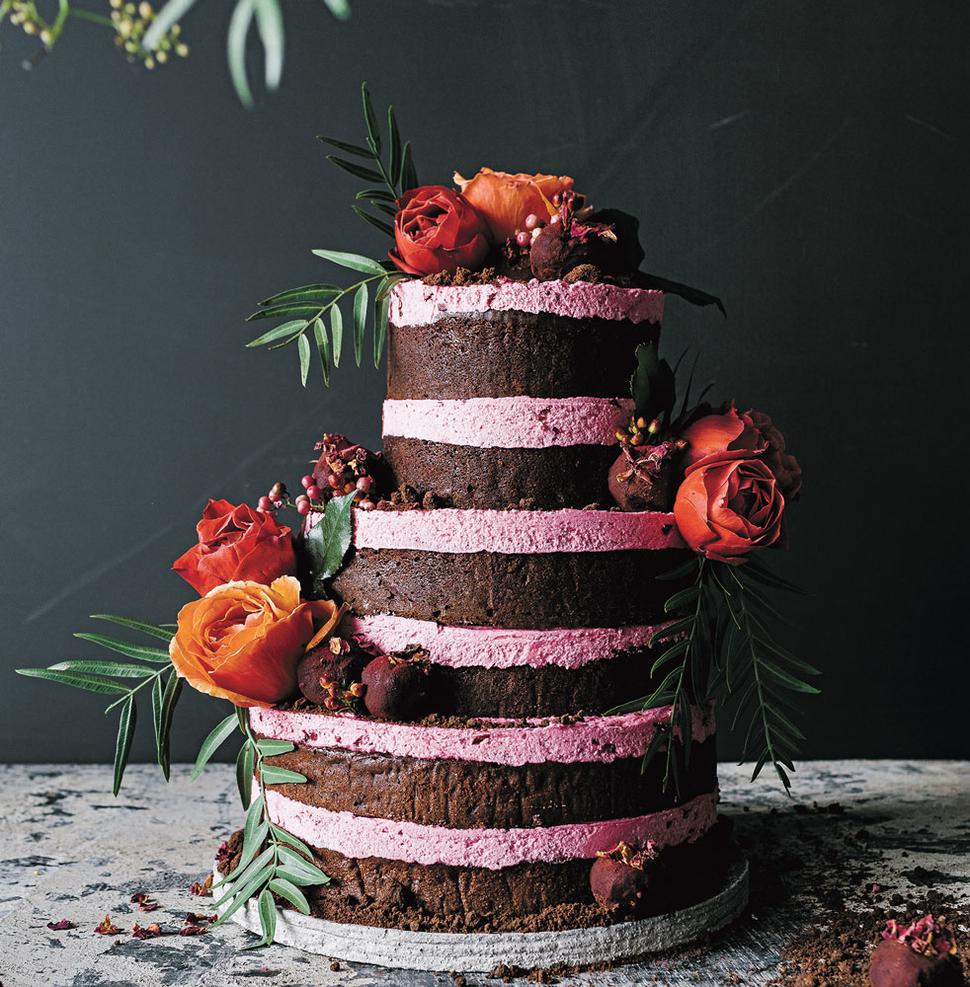 Beetroot & Rose Truffle Cake
This recipe from new book 'Sticky Fingers, Green Thumb' will become your secret weapon chocolate cake
Wednesday March 7, 2018
Earthy baby beetroots are roasted until juicy to lend a dense, fudge-like texture to an already deep, dark chocolate base. The real highlight, though, is the addictive beetroot and rose truffles dusted in cocoa, which happen to be a cinch to make. Just try not to scoff them before you decorate your cake.
This recipe makes one tier with two layers. To pump up the tiers and recreate the cake tower pictured, as a guide you'll need to quadruple the ingredients; as well as a 20 cm cake tin, you'll need one 23 cm and one 25 cm cake tin.
HAYLEE MCKEE'S BEETROOT AND ROSE TRUFFLE CAKE
Serves 8-10
Ingredients
10 baby beetroot (about 1.5 kg)
60 ml extra-virgin olive oil
340g unsalted butter
2 cups soft brown sugar
1½ cups caster sugar
4 large eggs
2 tsp vanilla extract
A few drops of rosewater, to taste
4 cups plain (all-purpose) flour
4 tsp baking powder
1 cup Dutch (unsweetened) cocoa powder
4 tsp salt
2½ cups sour cream
READ: Where to Find: Nostalgic Baking
Beetroot & Rose Truffles
3 beetroot (about 150 g)
1 Tbsp extra-virgin olive oil
400g good-quality dark chocolate (approx. 60% cocoa solids), broken into chunks
400ml thick cream
1 cup edible dried rose petals, plus extra to decorate
A few drops of rosewater
100g Dutch (unsweetened) cocoa powder
Beetroot Icing
3 Tbsp finely grated roast beetroot (see method)
225g unsalted butter, softened
225g cream cheese, softened
4–5 cups icing sugar
½ tsp vanilla extract
50 ml milk
Method
1. Preheat the oven to 175C. Lightly grease and line two 20 cm round cake tins with baking paper.
2. Toss the whole beetroot in the oil. Wrap each one separately in aluminium foil. Roast 1 hour or until soft, then remove from the oven and cool. Once cool, peel off the skin and finely grate. Set aside.
3. To make the truffles, cook the beetroot as per the method above, then add to a blender or food processor and blitz to a fine purée. Transfer to a saucepan set over a low heat for 2–3 minutes (this will dry up any excess moisture and help bring out the flavour, so don't skip this step). Remove from the heat and set aside.
4. Place the chocolate pieces in a heatproof dish. Bring the cream to the boil in a heavy-based saucepan, reduce the heat to a simmer, add half the dried rose petals and cook gently for 15 minutes, or until the flavour of the rose petals has fully infused into the cream. Strain the cream over the chocolate pieces and stir slowly until melted and glossy, then add 110g (¾ cup) of the beetroot purée and the rosewater and mix well. Refrigerate for 1 hour until firm.
5. Once set, take teaspoons of the mixture and shape them into bite-sized balls, then roll them in the cocoa powder and the remaining dried rose petals to coat. Transfer to the refrigerator and leave to chill until needed.
6. Cream the butter and sugars together in a bowl using a hand-held mixer, or a stand mixer fitted with the paddle attachment, until light and fluffy. Beat in the eggs, vanilla and rosewater and mix in half the flour, baking powder, cocoa powder and salt.
Stir in the sour cream, then mix in the remainder of the dry ingredients before gently folding in 300g (1½ cups) of the grated roast beetroot until well combined (save the rest for the icing).

7. Pour the batter evenly into the prepared tins and bake for 35 minutes, or until a skewer inserted into the centres comes out clean. Remove from the oven and leave to cool slightly in the tins for 5 minutes, then carefully turn out onto a wire rack and leave to cool completely.
8. To make the icing, beat all the ingredients together in a bowl using a hand-held mixer or a stand mixer until well combined.
9. Place one of the cooled cakes on a serving plate or stand and spread with half the icing. Place the second cake on top and spread with the remaining icing. To decorate, top with the truffles and scatter over a few more dried rose petals or team the truffles up with fresh garden roses.
RECIPE: Home-made Snickers Slice
—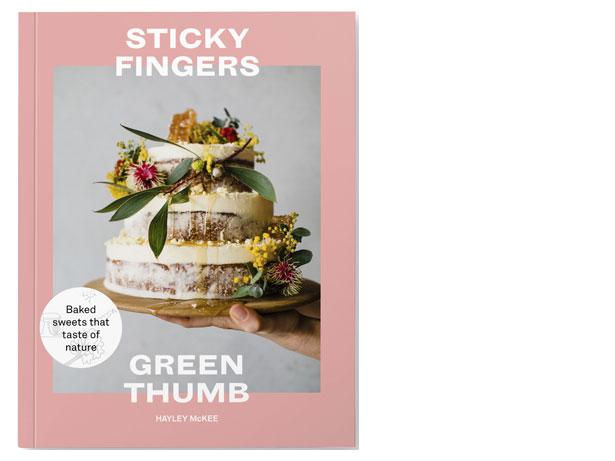 • This is an edited extract from Sticky Fingers, Green Thumb by Hayley McKee published by Hardie Grant Books $30 and is available in stores nationally. Visit Stickyfingersgreenthumb.com
Share this:
More Food & Drink / Recipes