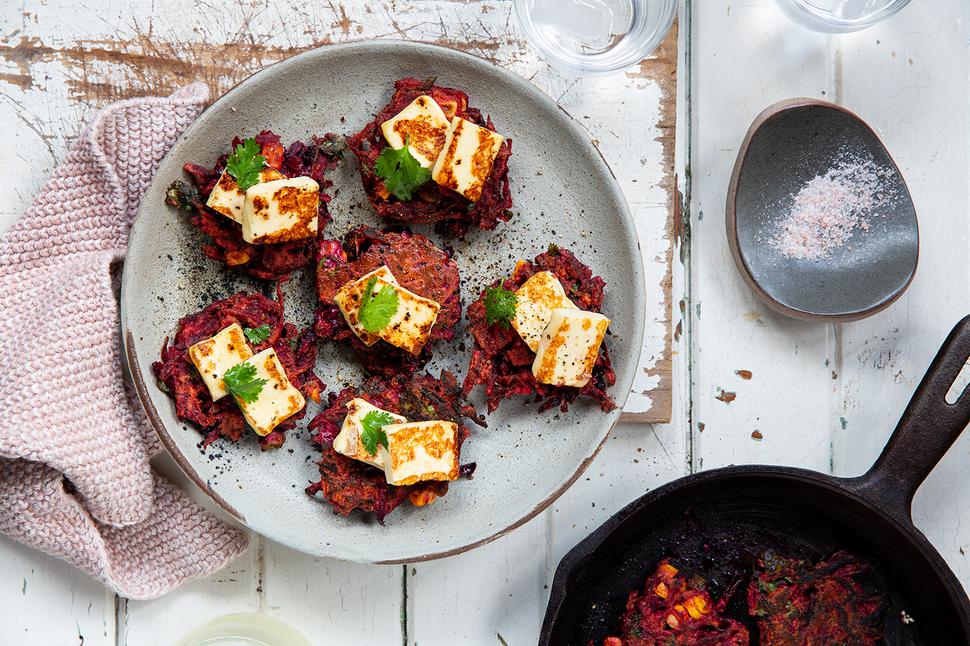 Beetroot Fritters With Halloumi Recipe
A wonderfully salty, crisp-edged dish with spiced purple-crimson fritters
Friday Feb. 5, 2021
To make these ahead of time, place the fritters in a single layer on a baking tray. Top with the cooked halloumi and place into the oven for a few minutes before serving. The ginger adds a hint of spice to the beetroot — a perfect match.
BETROOT FRITTERS WITH HALLOUMI
Makes 16
3 cups grated beetroot
½ tsp salt
1 Tbsp grated ginger
1 clove garlic, crushed
1 cup fresh corn
½ cup chopped coriander, plus leaves
to garnish
¼ cup flour
2 eggs
Pinch chilli flakes
Oil, for frying
150g sliced halloumi
1. In a large bowl combine the beetroot, salt, ginger, garlic, corn, coriander and flour. Stir through the eggs and chilli flakes, mixing well.
2. To cook, heat a medium-sized pan and drizzle a little oil. Place in a heaped tablespoon of mixture, cooking for 3 or 4 minutes, then flip and cook for a further 2 or 3 minutes. Remove and continue to cook the remaining mixture.
3. In the same pan turn up the heat a little. Fry the halloumi on each side for 20 seconds until lightly browned.
4. To serve, cut the halloumi while warm into pieces that fit nicely on to the fritters. Top with coriander leaves.
Share this: