Beetroot and Macadamia Poke Recipe
Try this recipe for a vegetarian poke, featuring beetroot and macadamia nuts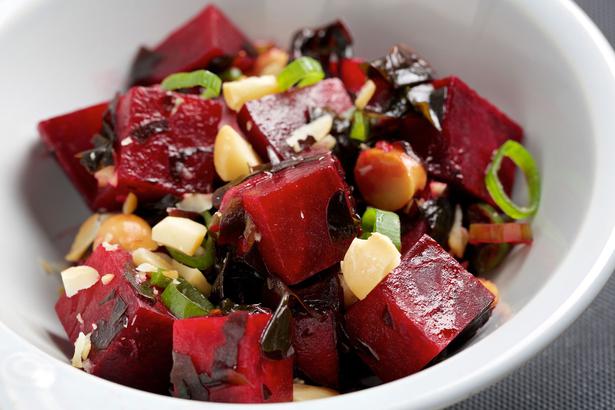 Monday July 31, 2017
BEETROOT AND MACADAMIA POKE RECIPE
Serves 4
Ingredients
3 medium stem-on beetroots, scrubbed
¼ cup dried wakame (optional)
½ cup thinly sliced spring onions (green parts only)
2 Tbsp cider vinegar
2 tsp toasted sesame oil
1 clove garlic, finely chopped
½ tsp crushed red capsicum flakes
½ tsp fine sea salt, or more as needed
¼ to ½ cup coarsely chopped, toasted unsalted macadamia nuts 
READ: New Opening: Ha! Poke, City
Method
1. Trim the beet stems, leaving about ½ inch intact. Place the beets in a metal steamer basket set in a saucepan filled with an inch of water. Bring the water to a boil over medium-high heat, then cover the pan and reduce the heat to medium. Steam until the beets are easily pierced with a fork, about 30 minutes. Uncover and let cool.
2. Meanwhile, if you are using the wakame, soak it in water until soft, about 5 minutes. Gently squeeze it dry, chop it and transfer to a medium bowl.
3. Trim off the ends of the cooled beets. Working under cool running water, rub off the beets' skins and discard. (You might want to wear food-safe gloves to prevent staining your hands). Cut the peeled beets into 3/4-inch chunks, then add them to the wakame, or place in a stain-proof mixing bowl. Add most of the spring onions (reserving some for garnish), and the vinegar, sesame oil, garlic, crushed red pepper flakes and salt. Fold gently until thoroughly combined. Taste, and add more salt, as needed.
4. Serve right away, or cover tightly and refrigerate for up to a day. Just before serving, sprinkle the poke with the reserved spring onions and the macadamias.
Note: Toast the macadamia nuts on a small baking sheet in a 120Ce oven for about 10 minutes or until golden brown, shaking the pan so they brown evenly. Cool completely before using or storing. The poke can be refrigerated for up to one day; wait to top with the macadamias and scallions until just before serving.
• Adapted from The Poke Cookbook by Martha Cheng (Clarkson Potter, 2017).
— The Washington Post
Share this:
More Food & Drink / Recipes