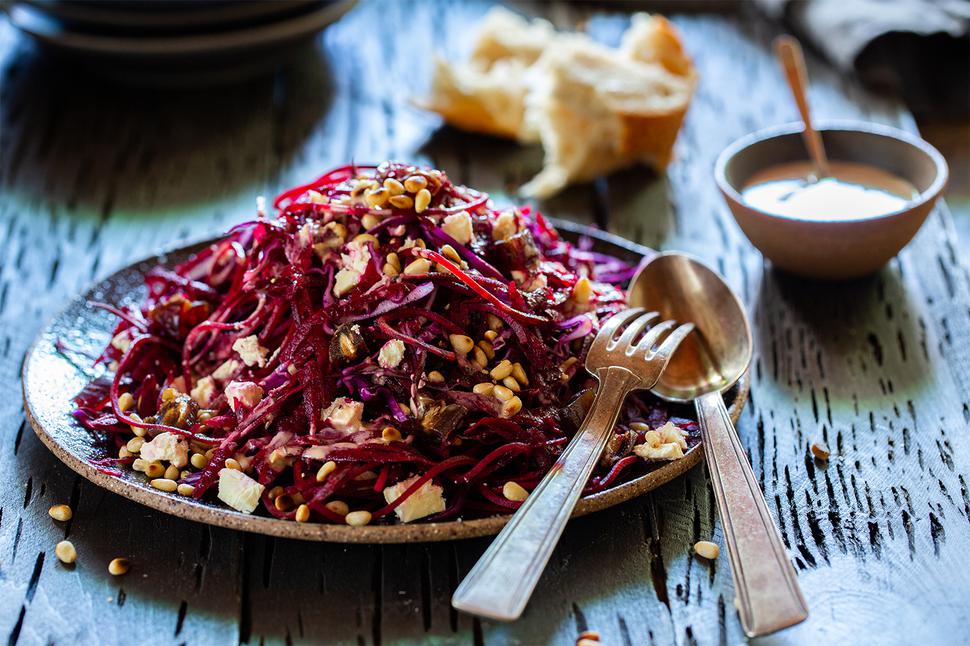 Beetroot & Red Cabbage Salad Recipe
Get the zoodle maker out for this fresh salad sweetened with dates and tossed with feta
Sunday Feb. 14, 2021
Use a zoodle maker to cut the beetroot or simply grate it coarsely. Season with salt and pepper just before serving. Salt draws the water from the vegetables, so salting too early creates unwanted liquid.
BEETROOT AND RED CABBAGE SALAD
Serves 4
Dressing
2 Tbsp olive oil
2 Tbsp lemon juice
1 Tbsp maple syrup
2 cups grated fresh beetroot
3 cups shredded red cabbage
½ cup fresh dates, roughly chopped
100g crumbled feta
¼ cup toasted pine nuts
1. To make the dressing, combine the olive oil, lemon juice and maple syrup in a small jar.
2. Into a large bowl place the beetroot, red cabbage, dates and feta.
3. Season with salt and pepper, toss through the dressing and place into a serving bowl. Top with pine nuts.
Share this: