Where to Eat: Beirut
The team behind Mexico is bringing modern Middle Eastern food to Fort St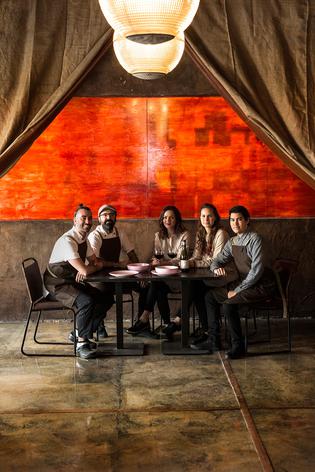 Just over a week out from opening, Beirut's interior is a work in progress. But block out the buzz of construction and the sawdust, and you get a sense of an elegant restaurant unfolding, all textured walls and raw materials: leather, large hessian curtains, walls and tabletops of charcoaled wood. Glamorous round lampshades from France bring a hint of the Lebanese capital's reputation as "the Paris of the East" in its 1970s heyday.
"Everything anyone touches, looks at, sits on, eats off", explains co-owner Nick McCaw, "we want to be real."
In a city seemingly giving birth to eateries every week, you might be inclined to think anyone would be crazy to open yet another in Auckland. But the team at Beirut, offering modern Middle Eastern food, have ample experience in reinterpreting classic cuisines.
The Britomart Hospitality Group have so far established a thriving nightlife around the corner, opening downtown bars 1885, the Britomart Country Club, Racket, and Agents and Merchants. With former business partner Mimi Gilmour, Nick also opened the perennially popular Mexico (now a chain of 7), and helped to popularise Southern American fare — po'boys and fried chicken waffles — at Orleans.
Working alongside him at the new Fort St eatery is Mexico's executive chef Javier Carmona (whose zingy fast food has helped to re-shape our appreciation for the cuisine beyond burritos and tacos).
Beirut's head chef is Jacopo Crosti, formerly of Cassia. In fact, you wouldn't be pushing the boat out to compare Beirut's concept with Sid Sahrawat's modern Indian joint, an inventive, sophisticated take on the traditional.
"People are familiar with Middle Eastern food through cookbooks and so on. Hummus, baba ganoush, dips, tabbouleh," says Javier. "They're comfortable with these dishes, and that's wonderful, but there's a lot else that hasn't really been tapped into."
He and Nick acknowledge there are a few very good Middle Eastern eateries in Auckland, including Ima Cuisine (specialising in Israeli home-style cooking) just down the road, and Petra Schwarma in Kingsland. But they're hopeful the opening of Beirut will go some way to diversifying our Middle Eastern food scene, much like you find in cities overseas.
London has screeds of options, including Yotam Ottolenghi's popular eateries and Lebanese chain Yalla Yalla; Sydney also has a huge variety, thanks to the large number of migrants there. Now Aucklanders have a place to try dishes inspired by Lebanon, Israel, East Africa, Morocco, Iran, Armenia and Turkey.
"Not a lot of cuisines are this expansive," says Javier. "There are a lot of amazing flavours and textures, aromatic spices. You've got sweet and sour, but it's also fresh and clean, with lots of vegetarian options."
Beirut is a real "passion project" for the chef, who says he has a bigger affinity with Middle Eastern cuisine than with any other. The Spaniard grew up in west Sydney eating fattoush (Levantine bread salad), and spiced roast chicken with a side tub of "ferocious" garlic.
Javier's take on fattoush, however, is a little more refined, featuring watermelon rather than tomato, with beetroot, cucumber, orange blossom and parsley. It's on a playful menu divided into smaller options (including Afghan bread, za'attar kale) and sharing-style plates (fava bean dip, smoked yoghurt labna, bubba — a take on baba ganoush, with burnt eggplant, black sujuk, toasted sesame and black cabbage).
Then there are the mains and meats: duck ras el hanout, slow-braised goat and monkfish with preserved lemon, onion ash, cracked wheat, apricot kernel and sunflower seed. Pashmak saffron floss and Arabic doughnuts feature on the desserts menu.
Neither Nick nor Javier has actually been to the Middle East, but they say this is less of a pure take on the cuisine than it is a modern interpretation, using as many authentic elements as possible.
One of the most interesting sounding dishes is beef basturma. Traditionally, it's air-dried beef, hung out to dry for a week, with a paste of fenugreek and cayenne added before it's dried for a further week, the aged beef turning to a dry jelly.
Javier couldn't find any in New Zealand so he has made his own, modernising it by using beef sirloin and grating the basturma which has been cooked sous vide (rather than dried) over the top.
Despite discovering organic apricot kernels and pine nuts in a shop in Avondale, the general lack of importers selling such specialties has meant Javier has also had to make his own sujuk (a dry, spicy, Turkish sausage) and merguez (North African lamb sausage), labneh cured yoghurt (a Lebanese cream cheese) and bric pastry (a wafer-thin Tunisian variety) from scratch.
"This just pushes everything a bit harder and further," Nick adds. "The presentation has been lifted. So, like the other stuff Javier's done for us, it's not about being absolutely pure to what [you] might get on the street in parts of the Middle East. It's about trying to work with those ingredients, and bring through those Middle Eastern flavours in a way that's different and more interesting."
In addition to a diverse international wine list, the drinks menu features "shrubs", an ancient Middle Eastern botanical drink, handmade and naturally preserved with fresh and dried fruit, vegetables, vinegar and herbs.
There's also a geographically inspired list of romantically named cocktails — Bedouin milk punch, Bahar negroni, and Sanayeh garden from barman Phil Spector, currently competing in South Africa for Bartender of the Year after winning the Diageo Reserve World Class National Final in Auckland.
Meanwhile, the Beirut building, flanked by apartments and Jucy Rentals, was built in the 1960s, and is the former headquarters of the Chelsea Sugar Works. It then spent several years as a convenience store.
Adjacent to the restaurant is a lane area that will be open from 7am, serving coffee, exotic teas and takeaway breakfasts; from midday this will become the bar and waiting area for lunch and dinner. "A few people looked at us weirdly because we were going across to Fort St," says Nick.
"But I love this part of the road. It has so much charm."

• Beirut, 85 Fort St, opens on Friday. Ph (09) 367 6882.
Share this:

More Food & Drink / The Latest