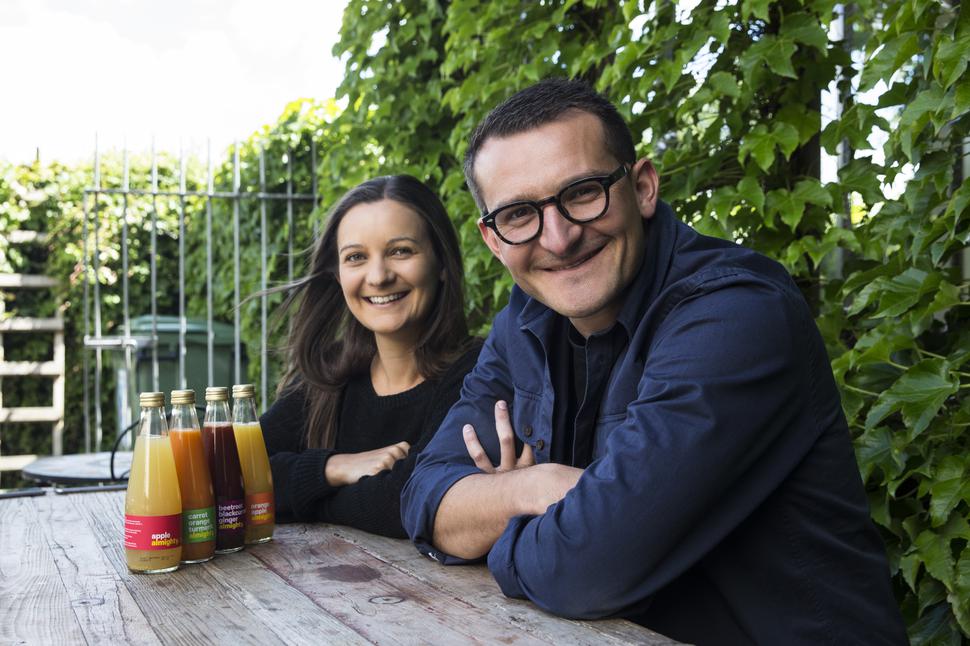 Food Heroes: Ben and Tess Lenart, Almighty
Meet the stars of the food and drinks industry, Kiwi entrepreneurs determined to make the world a better place
Thursday Dec. 31, 2015
Not every business exists purely for its bottom line. New juice company Almighty aims to promote healthy living in less well-off communities. Since launching six weeks ago, their organic concentrated juices have been picked up by 100 cafes and eateries, no doubt attracted as much by the zippy taste of the product as the feel-good factor behind the brand.
Three cents from the sale of each bottle goes to community organisations such as Garden to Table, teaching school kids to grow veges and cook fresh produce, and Common Unity Project, a Lower Hutt-based initiative supporting communities through food.
Almighty is also in the business of encouraging others in the industry to do their bit against child poverty, which you'd imagine might rub some up the wrong way — who do these newbies think they are? — except they walk the talk. Every week, Ben Lenart, one of the company's four co-founders, along with his sister Tess, volunteers at Edendale School in Sandringham with Garden to Table. The programme runs in 30 schools throughout the country. It appears to be producing healthy gourmands; recently the kids made a beetroot falafel with lemon yogurt and handmade pasta with kale sauce.
"I think having an older person making a positive influence is just as valuable as having garden knowledge," says Ben of their volunteers. "You learn more than you teach."
The money from the juice sales contributes to digging more vege patches, acquiring compost and providing support. It helps that they're not really newbies anyway. Ben used to own the Milk Crate cafe in Wellington, and made cold-pressed juices under the name Earnest. Then he worked for All Good Organics, moving to Copenhagen to introduce Karma Cola (which gives back to the cola nut farmers) to Scandinavia. He also studied corporate social responsibility.
Tess has a background in hospitality and also worked at All Good Bananas, as well as foodie projects and pop-ups in Wanaka, Sydney and Beijing. And in case you're wondering, there are no hard feelings with their former employers that they've struck out on their own — All Good are Almighty's distribution partner. Like them, Almighty's aim is to be transparent about where their produce comes from, and to highlight the people involved.
While not all of their produce is sourced locally — the oranges are from Mexico — their apples come from New Zealand's largest organic apple grower John Bostock in Hawkes Bay.
The healthy eating message puts their product at greater scrutiny too, perhaps, but the pair point out there are no added sugars in the juices, and the hope is that flavours such as the carrot, orange and turmeric or the beetroot, blackcurrent and ginger might encourage kids that veges aren't so bad after all.
Share this: