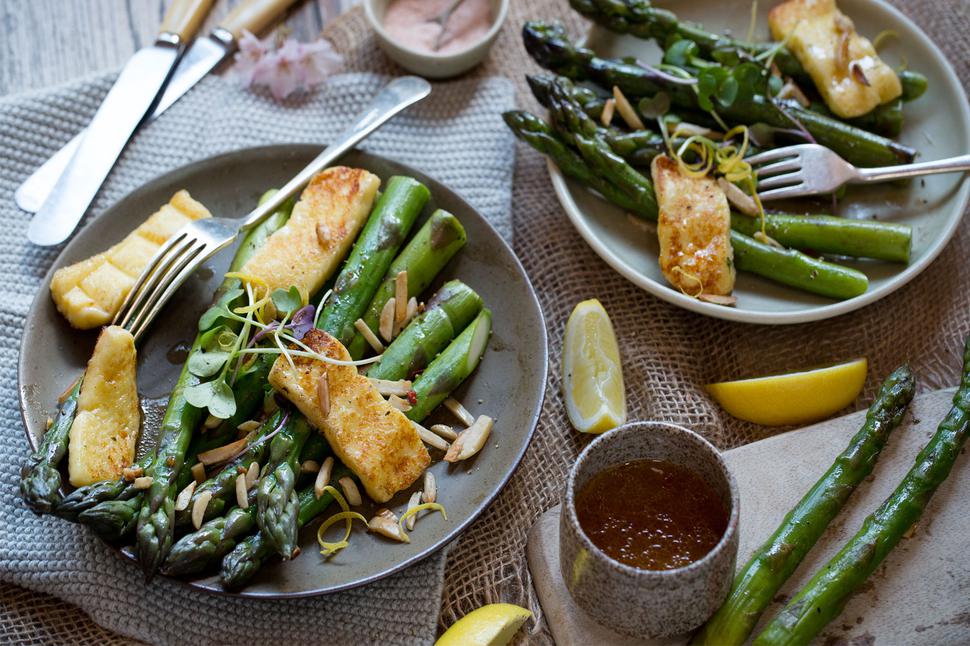 Celebrate Spring With Our Best Asparagus Recipes
You know spring has well and truly sprung when you can find bundles of fresh asparagus at the supermarket. Celebrate this delicious green with these clever creations
Monday Sept. 24, 2018
Halloumi & Asparagus Salad
Asparagus looks (and tastes) great in this super-quick salad which will leave you feeling nice and healthy. Halloumi works well with the crisp vegetables, and buttery toasted almonds round it off so well.
Asparagus & Salmon Bake
A match made in heaven is asparagus and salmon with a hint of dill. Serve this bake for brunch or lunch with your favourite chutney and a side salad. It is just as good hot or cold.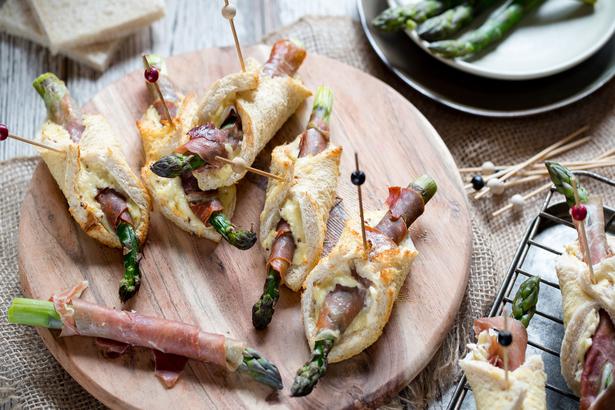 Prosciutto & Asparagus Cheese Rolls
You've never had asparagus rolls like this before. This Kiwi classic is given a posh upgrade with fresh asparagus, prosciutto and plenty of sharp cheddar cheese. Serve hot while the cheese is oozy.
Spring Asparagus, Mint & Goat Feta Tart
Eleanor Ozich's clever tart recipe sees fiddly pastry swapped for a tortilla wrap to create a simple, easy tart that's ready in a snap. Serve alongside generous servings of salad and plenty of spicy relish for a delicious brunch.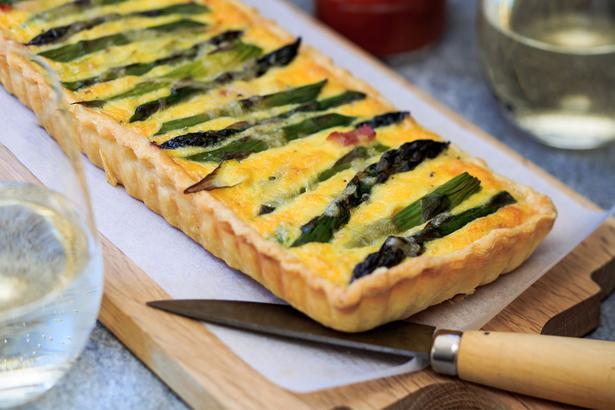 Asparagus, Ham & Gruyere Tart
If there's one way to enjoy asparagus, this is it. The pairing of homemade pastry, gruyere cheese and chopped ham is perfection.
Salmon & Asparagus en Croute
This impressive dish is perfect for feeding the crowd. The combination of tender salmon, golden pastry and homemade asparagus pesto is sure to go down a treat.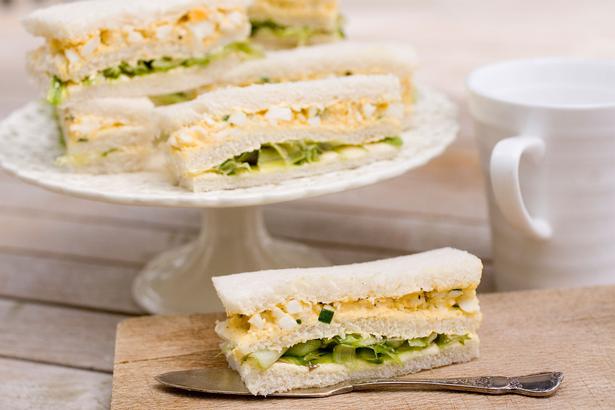 Shaved Asparagus, Chive & Egg Sandwiches
Picnic, high tea or bring-a-plate classic, you can't go wrong with these sandwiches. Fresh asparagus makes all the difference and provides an irresistible crunch to these egg and mustard sammies.
Petite Kitchen's One-Pot Pasta With Asparagus, Lemon & Basil
If you're yet to try this no-fuss technique for making pasta, you're missing out. All you need is one pot to create a deliciously easy dinner that you can alter to suit whatever is in the fridge.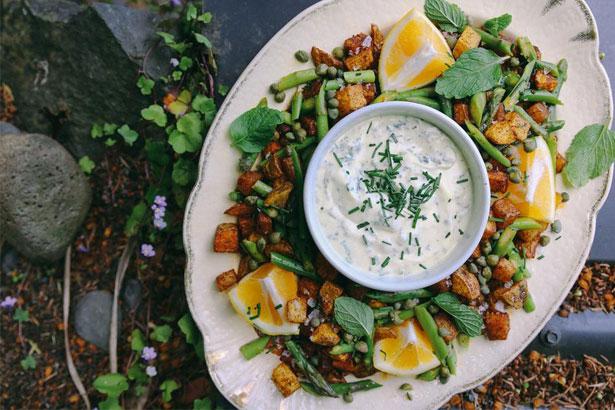 Petite Kitchen's Grilled Asparagus with Herbed Cream Fraiche
Herbed cream fraiche brings a snap of acidity and a touch of richness to this crispy potato, asparagus and mint salad. There is a lovely vibrancy and freshness to this wonderful spring dish.
Asparagus & Orange Salad
It doesn't get much easier than this. Fresh seasonal ingredients combine with a light citrus dressing to create a delicious side dish, light lunch or dinner served with crusty bread.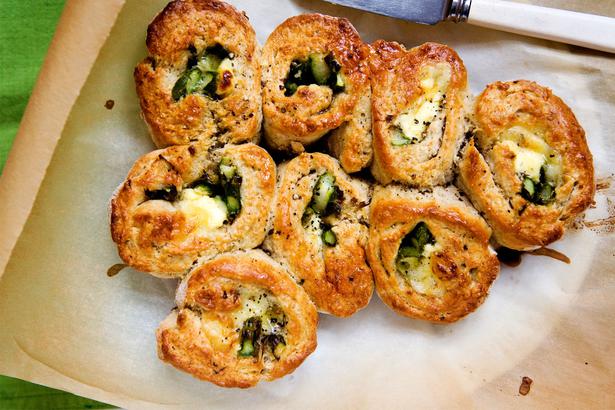 Pinwheels Recipe with Asparagus & Cream Cheese
Warning: this recipe is simply addictive. Much like their cousin, the famous marmite scroll, these pinwheels offer the perfect bite of golden, cheesy goodness.
Asparagus, Peas & Mozzarella
A simple combination of tender asparagus, fresh peas, soft mozzarella and good glug of olive oil is all you need to create this tasty dish.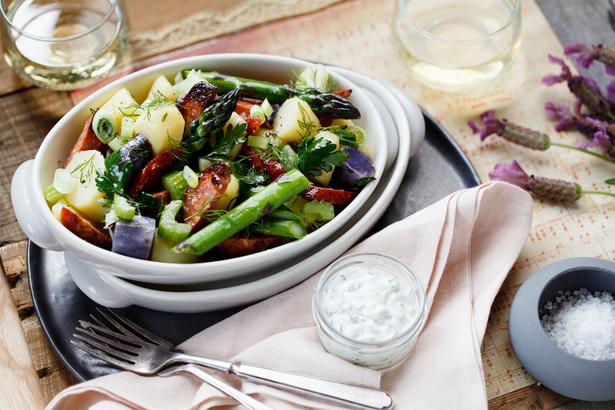 Potato Salad Recipe with Asparagus & Chorizo
Jazz up your normal potato salad with fresh asparagus, spicy chorizo and a herby yoghurt-mayo dressing sprinkled with capers for an extra burst of salty flavour.
Asparagus, Mint and Parmesan Bread
Adorned with tenderly cooked asparagus spears, this savoury bread is warm, cheesy and filling. Simple and rustic, this recipe only takes minutes to throw together. Serve with a thick smear of butter and a mug of hot tea.
Share this: