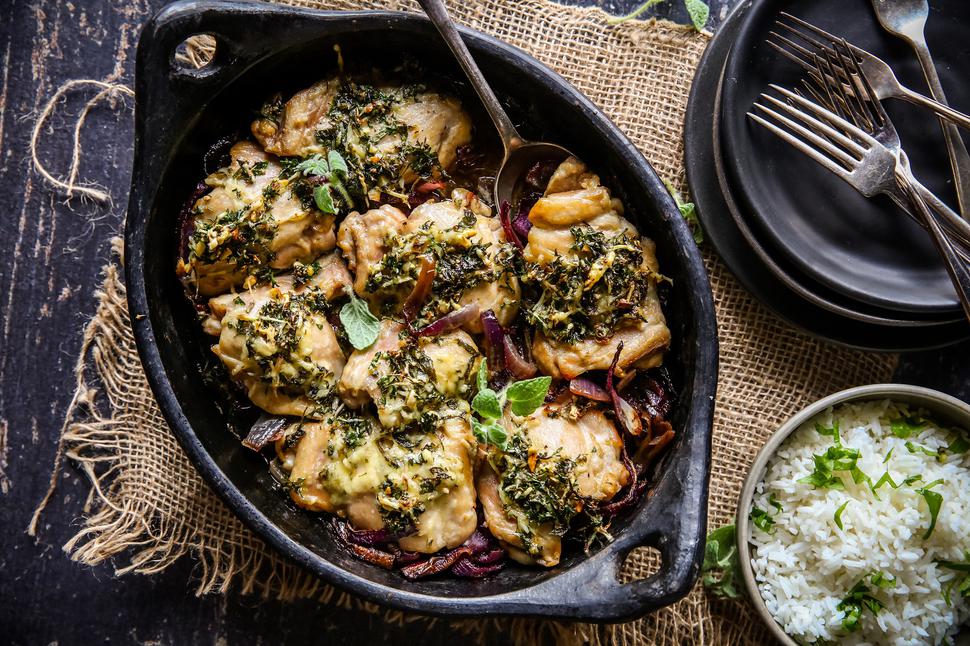 The Best Chicken Recipes To Try For Dinner
Winner winner chicken dinner. Reach for these recipes next time you're cooking up a chook
Monday Nov. 26, 2018
Roasted Chicken Thighs With Oregano Parmesan Paste
Flavourful chicken thighs are the star of this dish. Slather with a herby pesto-style paste and bake until tender and fragrant. Soft red onions also add wonderful element.
Apricot Marinated Chicken Legs
These chicken legs are always a hit and are a great way to use a tin of apricots with just a couple of other cupboard staples. Sweet and tender, the juicy chicken just falls from the bone.
Roast Chicken With White Wine, Basil & Tomato
This is the kind of meal that can restore your love for life. Sumptuously sweet and salty chicken is slow roasted in a sauce of white wine, garlic, lemon, basil and tomatoes. Serve with a light green salad and some rustic bread.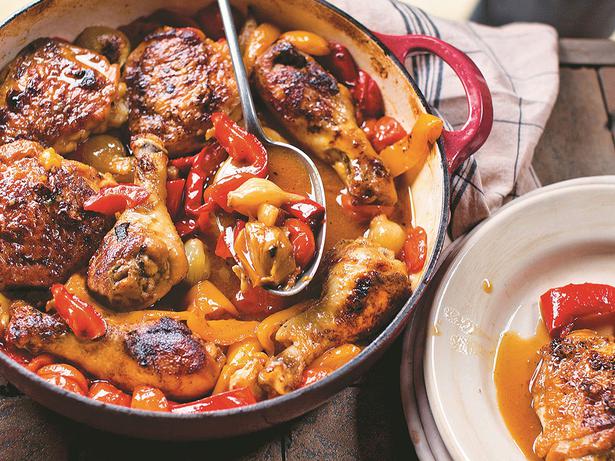 Boozy Baked Chicken With Peppers
This is a really simple dish to prepare: put all your ingredients in a roasting dish and pop in the oven to do the rest. All the flavours infuse together and the alcohol and mustard give the chicken a real kick.
Roasted Lemon & Rosemary Chicken Wings
This recipe will be on high rotation once you taste these herby, zesty chicken wings. All it takes is one pan and a few simple steps to create golden, sticky wings that are just as wonderful enjoyed for dinner with bread and salad, or as a simple snack.
Chicken & Lime Stir-Fry
Kaffir lime imparts an unbeatable flavour on this stir-fry. Dish up for a speedy meal that goes down a treat with a crisp glass of chardonnay.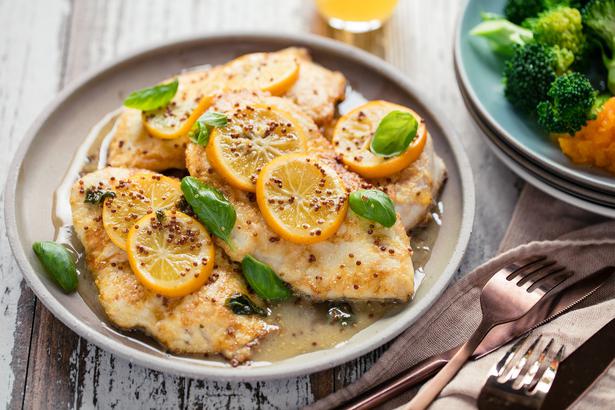 Chicken with lemon, mustard & honey sauce. Photo / Babiche Martens

Chicken With Lemon, Mustard & Honey Sauce
Love lemon chicken? This recipe is a must-try. Load up with lemon, honey, grainy mustard and herbs to create a zesty sauce that's delicious paired with chicken breasts. Serve with your favourite vegetables for a simple mid-week meal.

One-Pan Moroccan Chicken
In an extract from the cookbook One Pan Roasts, Molly Shuster shares a recipe for Moroccan chicken that's pretty much foolproof. Throw together when you're short on time and prepare to be impressed.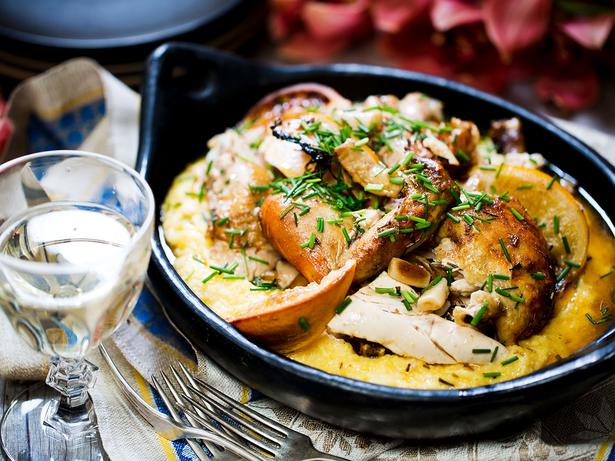 Herb & Miso Chicken With Creamy Polenta
You'll never get tired of this miso chicken. Roast chicken paired with umami miso and cheesy polenta is almost too good to be true. It's simple enough for weeknights and fancy enough for entertaining.
Garlic & Thyme Chicken With Cauliflower Couscous
This dish is pretty damn delicious. The chicken is rich and tender, served upon a light, herby cauliflower couscous, perfect for mopping up the sumptuous sauce. Perfect for gluten-free dinner guests.
Roast Chicken With Butter Beans, Basil & Tomato
This may just be the ultimate one-pan meal. Simply arrange in a roasting dish, season and let the oven do the work for an hour. Enjoy simply as is or serve with warm crusty bread for added comfort.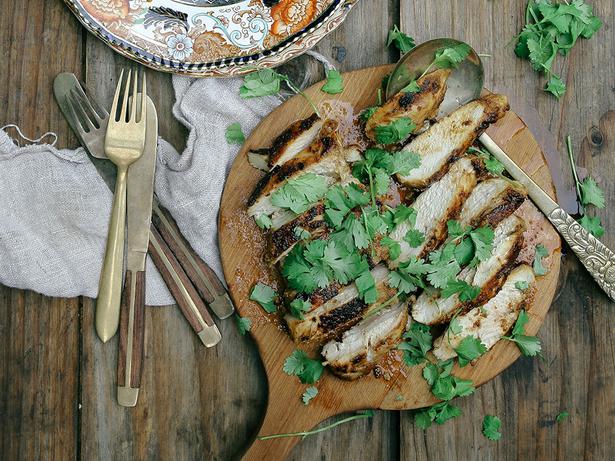 Jamaican Jerk Chicken
This fabulously fragrant chicken is marinated in a punchy Caribbean-style sauce full of warm and delicious spices. Grill the chicken on the barbecue to intensify the flavours, although it can also be pan-fried. Pro tip: For maximum flavour, marinate the chicken overnight.
Baked Rosemary Chicken
An ever-so-simple tray-baked dinner with soothing mild flavours. The juicy plump butter beans are perfect for soaking up the utterly delicious white wine, lemon and chicken broth. The star of the dish, however, is the sumptuous moist chicken, crispy and golden on top with plenty of roasted herbs and flaky sea salt.
Black Beans With Chicken & Peppers
Create a takeaway favourite at home with this delicious recipe. It's easier than you think, and all you need is a couple of extra ingredients to ensure it tastes authentic. Serve with brown rice for an extra nutrition boost.
Share this: